Building Intelligent operations with End-to-end solutions for the SAP journey to AWS
Cloud4C offers unmatched end-to-end migration solutions, managed services and infrastructure automation suite for SAP applications on AWS to help enterprises transform their SAP core systems and adopt cloud at speed and scale. This drives speed to market with increased quality, consistency and breakthrough efficiency. This also gives the enterprises a platform for innovation and transformation with Analytics and IoT.
Words that infuence our extra mile of effort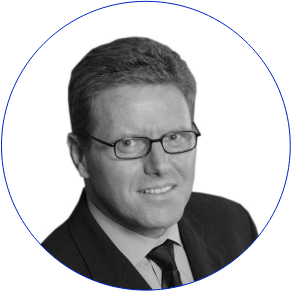 I am pleased and honored to recognize and congratulate Cloud4C as the recipient of the SAP Partner Excellence Award 2018 for HANA Enterprise Cloud. We look forward to continuing to work closly together with Cloud4C to realize ever greater success in 2018
Rodolpho Cardenuto
President Global Partner Organization, SAP
Why SAP on AWS?
Resilient SAP architecture
AWS global infrastructure built around multiple isolated regions and Availability Zones (AZs) connected through low-latency, high throughput, and highly redundant
Eliminates application-level single points of failure (SPOFs)
Comprehensive security
Cloud4C and AWS deliver a comprehensive approach to security beyond infra and SAP application security. Ex: VAPT, SAP custom code scanning, Threat Intelligence, Forensics etc.
AWS Shared Security model provides data security upto OS level, including from guest-OS and hypervisor to the bottom of the stack, not to mention physical security of DCs.
Cost effciency
Companies moving their SAP landscapes to AWS Cloud can cut TCO by between 20 and 40 percent.
If they need to scale up and down, they can switch to a larger or smaller environment in a couple of minutes.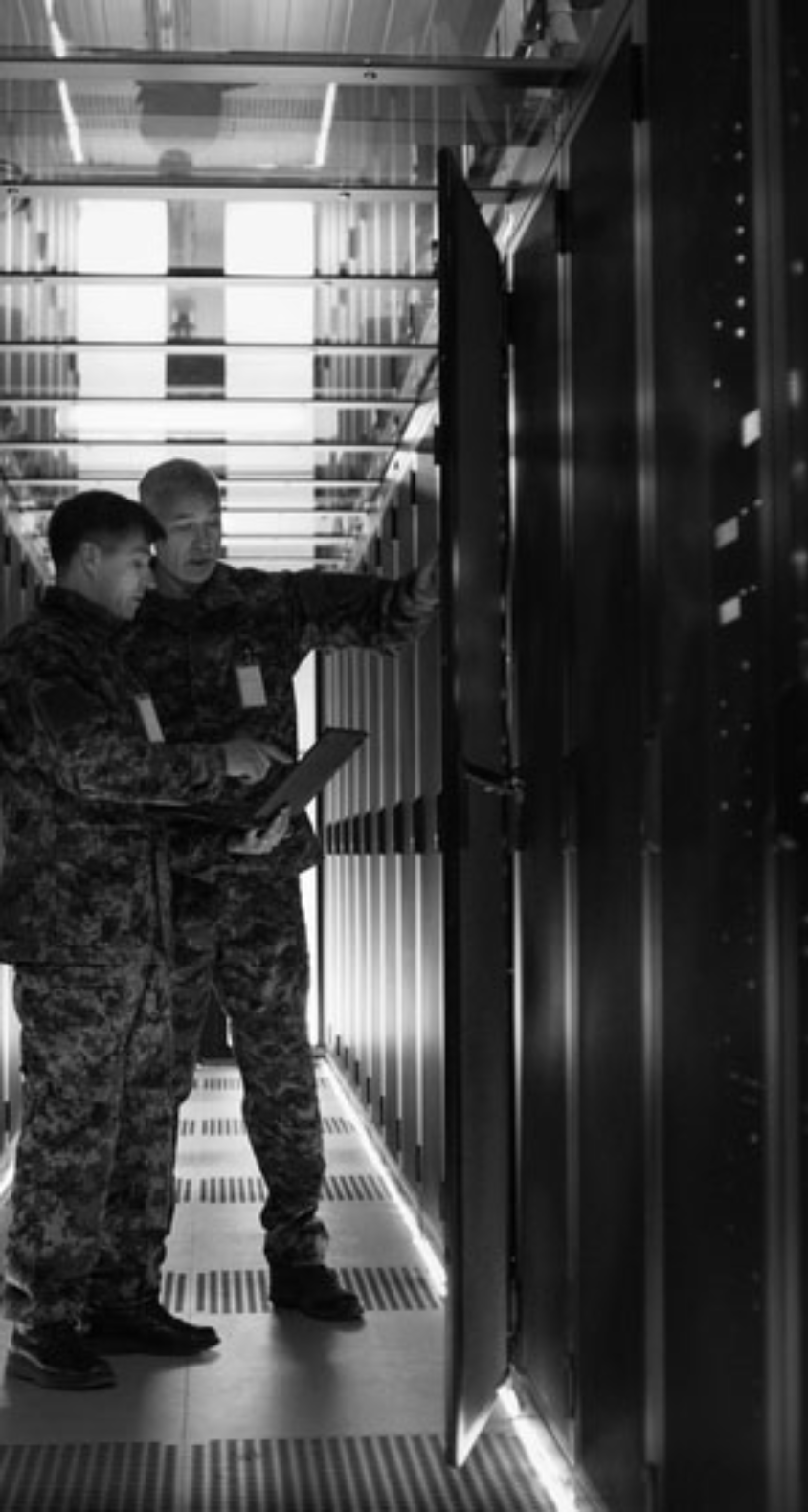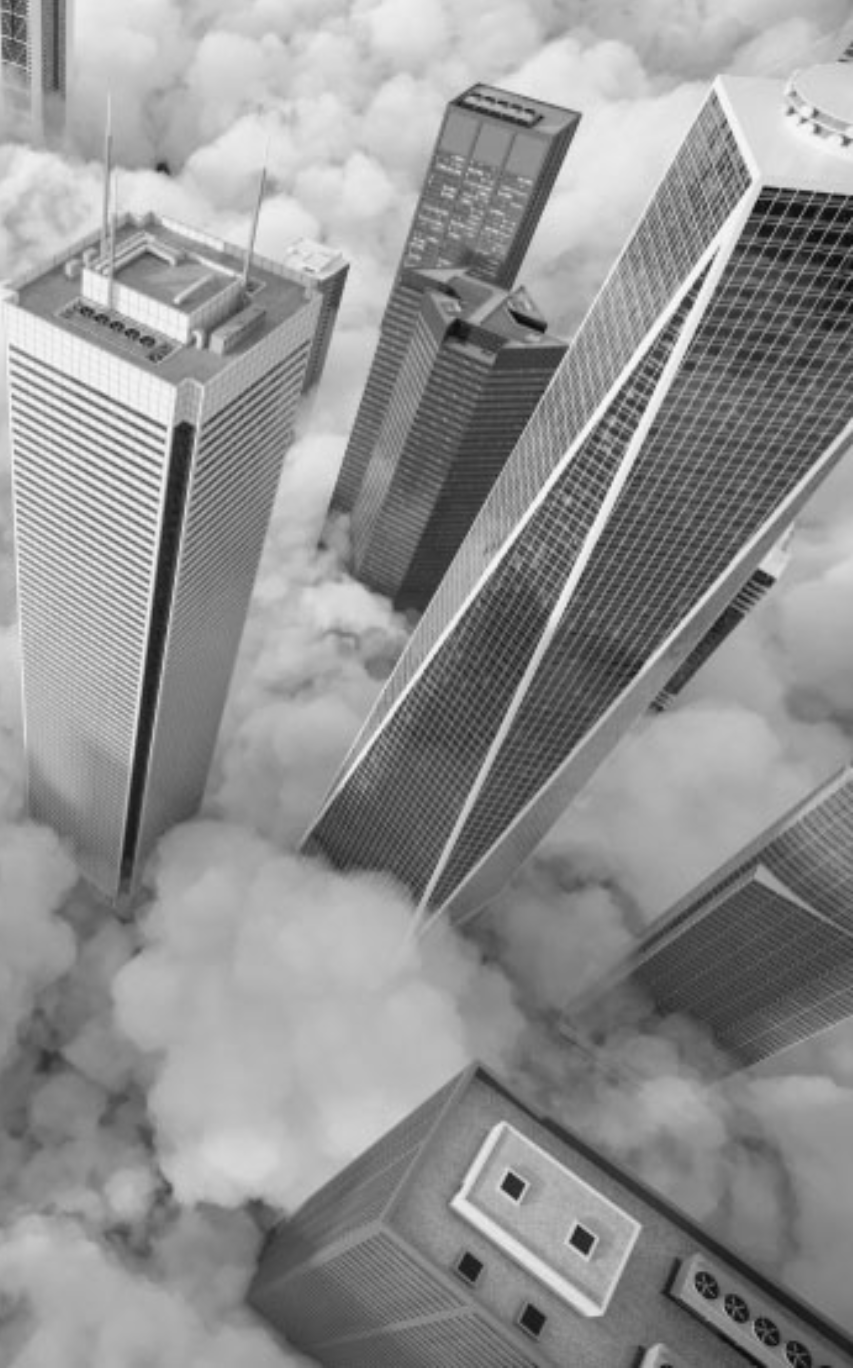 Reduced Management overhead
Cloud4C developed a series of DevOps tools that automate SAP deployments and operation on AWS. The tools built on best practices for SAP architecture deployments, and can work for popular SAP products.
Auto-deploy and testing of SAP landscapes
Automated starts and stops for non-production environments.
Scripted SAP Basis and Infrastructure Operations
End-to-end monitoring of SAP Infra and Apps
Low latency and Data sovereignty
AWS Global locations coupled with AWS Outposts will solve the problem of latency and need to comply with Data Sovereignty rules.
AWS Outposts allows enterprises to securely store and process customer data that needs to remain on premises or in countries where there is no AWS region. This is important for companies in highly regulated industries and countries with data sovereignty requirements.
End-to-End Services for SAP on AWS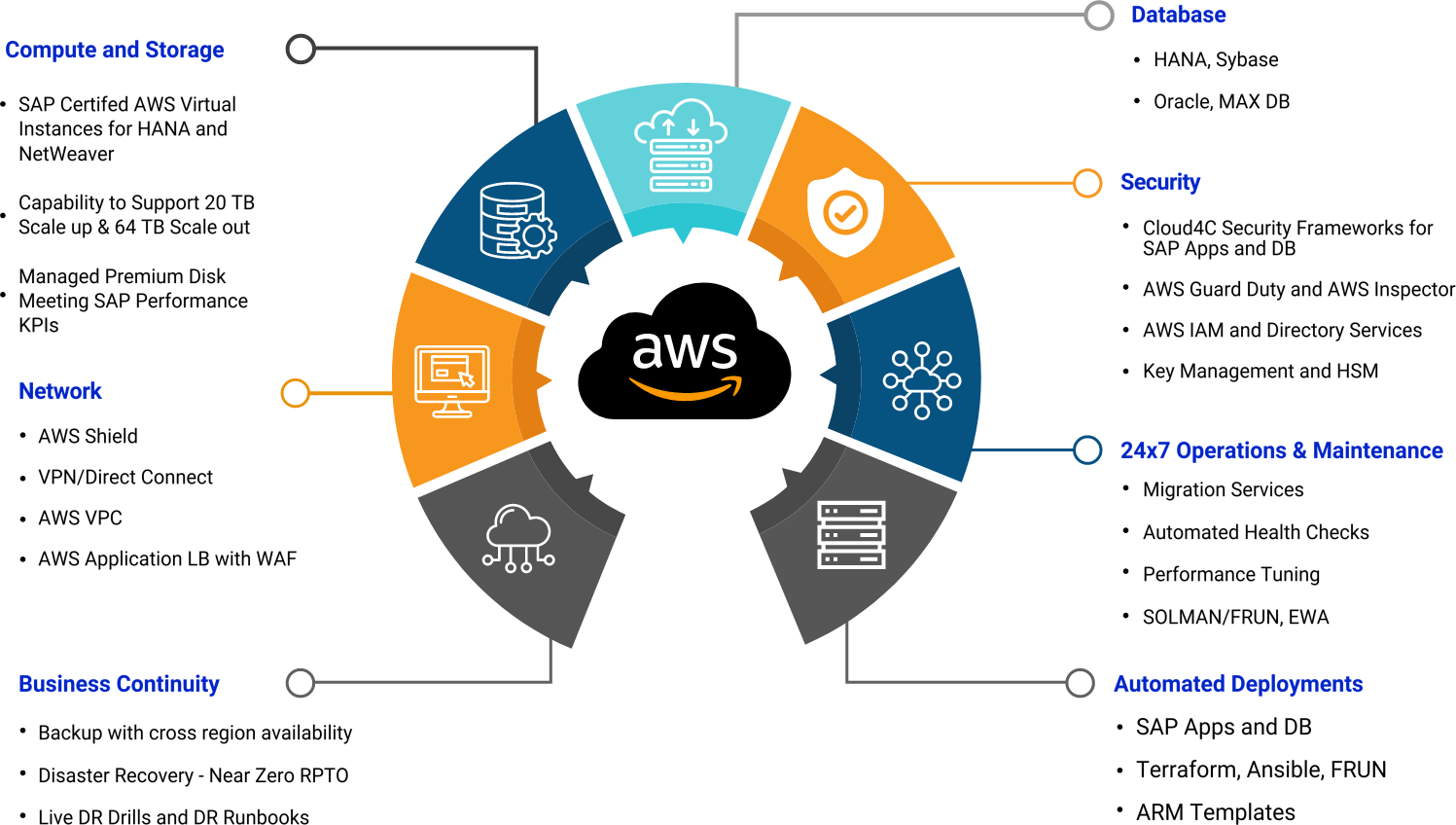 Why Cloud4C?
SAP Center of Excellence(CoE) at Cloud4C
2000+ Cloud, Infrastructure,
Supporting complete portfolio of SAP Applications and Data bases
SAP Migration factory
Single Application up to Application layer
ITIL, ITSM, COBIT certified resources
Largest Global Premier Supplier
for 175+ Enterprises of SAP HEC
Managing SAP HANA production \ork- loads
Scale up nodes up-to 20 TB & Scale out nodes up-to 64 TB
550+ SAP Success Stories
Leaders in Handling SAP Workloads
1000+

Application production workloads

6000+

SAP System Identifers (SIDs)
Certifications

Migration of SAP workloads to AWS has never been this simpler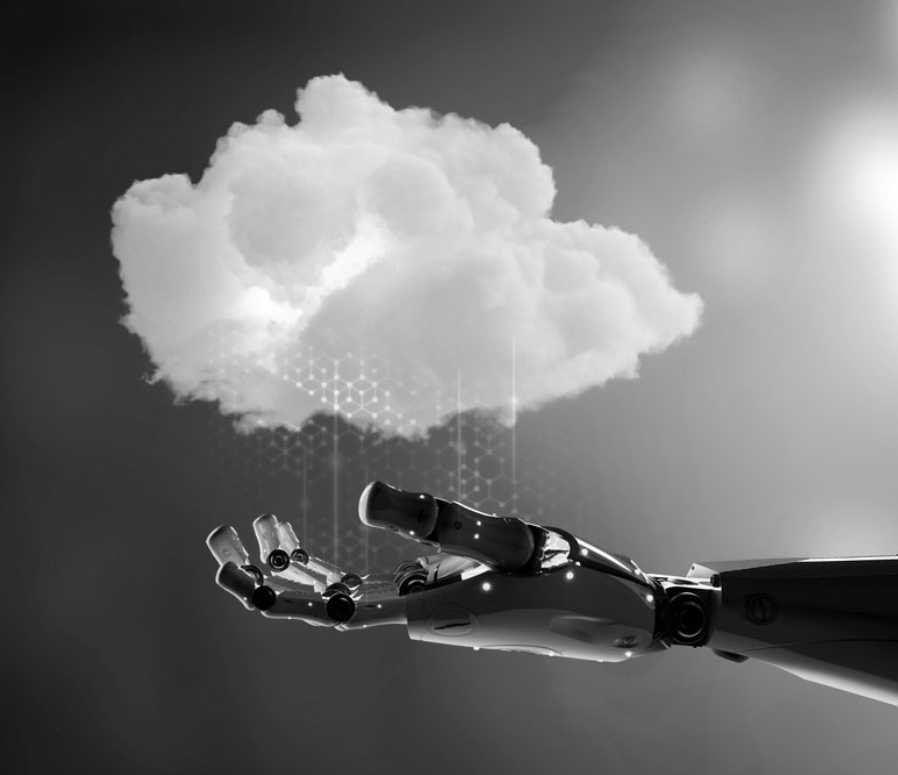 Single SLA. Rapid deployment. Minimal downtime.
Enterprises are free to choose the OS/DB Platform such as Unix favors, Windows family, SAP HANA, Oracle, MS SQL, Sybase, MaxDB & DB2 .Cloud4C will customize any additional applications so that they can be moved to the cloud be it across any verticals such as the following:
Manufacturing
Financial Services
Hi-Tech
Energy and Utilities
Consumer Products and more
Cloud4C SAP on AWS Service portfolio
Cloud4C's SAP on AWS service portfolio encompasses the full spectrum of services starting from design, migrate, build, run and operations with SAP Basis technical layer to providing assurance with SLA up-to Application login layer.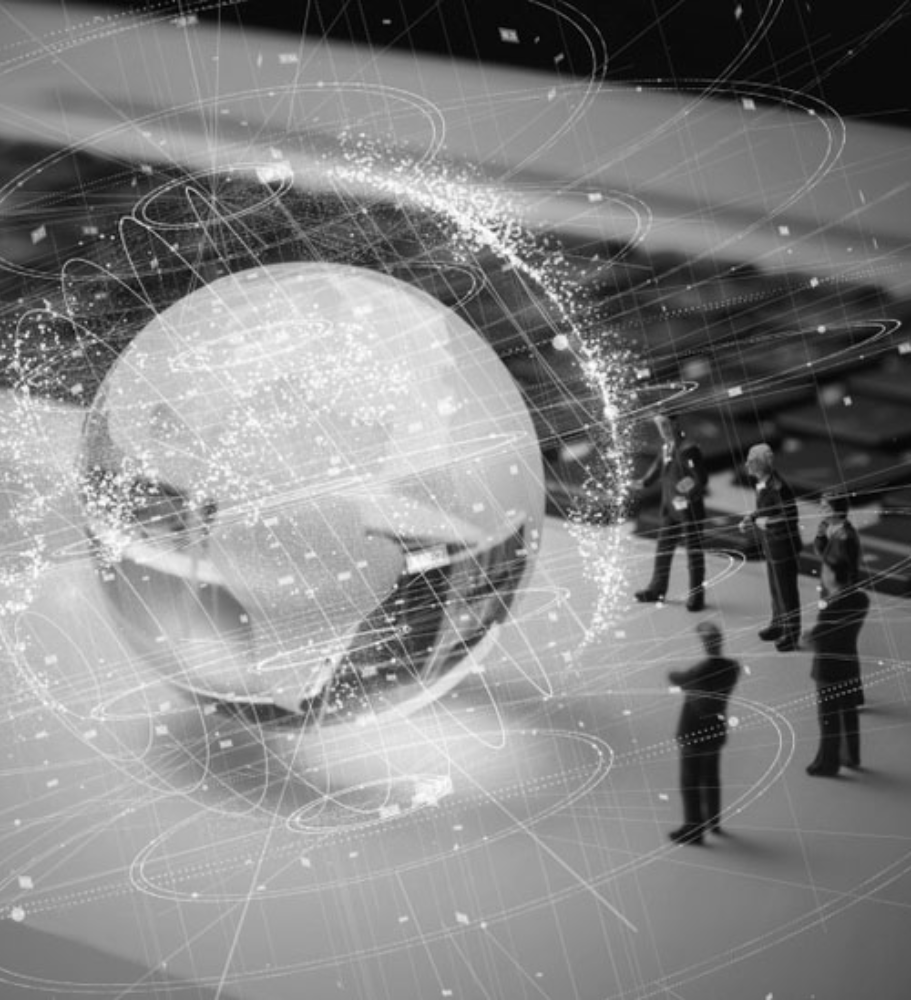 Migrations and Advisory Services
Environment Discovery
Cloud Readiness Assessment
Migration and On-boarding
Proof of concept
Zero Friction based Cloud4C's On-boarding, Migration and Service Delivery frameworks
Right size-Right ft
SAP certified systems
Configuration in sync with expected performance
Architecture delivering Security, Backup and Resilience
Ready to use & proven frameworks, designed to deliver SLA up to Application login layer
Thought through, tested & delivered optimized architectures like Multiple Components One System (MCOS), Multiple Components in One Database (MCOD), Multi-tenant Database Containers (MDC) etc.
Intelligent Managed services powered by AIOps
SAP and AWS certified resources
Round the clock support service
Managed services up-to SAP Basis technical layer
SLA up-to Application Login layer
Complex and Third party Application support (Opentext, GKPOS, Hybris)
Security and Governance
Strong governance with Role-Based Access Control
Enhanced SAP security with integration of applicable geographical and vertical specific compliance controls (GDPR, IRAP, PCIDSS, NESA, SAMA etc.)
24*7 Security Operation Center (SOC)
Security Monitoring and Correlation in real-time
Application and DB Security audits
Geography and Industry vertical specific compliance services delivered using AWS Native tools and Cloud4C Managed Security Services offerings
Backup and Disaster Recovery services
Protection and Recovery for mission critical applications and data
Increase site resiliency by designing Disaster Recovery on AWS
Zero RPO and RTO SLAs
Automated Disaster Recovery as a Service