A CLOSE LOOK AT REAL WORLD RPA EXAMPLES
Interested to explore new possibilities from RPA?
Book a demo

RPA By Use Cases
A digital transformation strategy for an organization should cover every function or department that has processes with high automation potential. From procurement to delivery management and customer service, RPA robots can help each of the functions streamline their processes - quickly and securely.
At Cloud4C, we have designed ready-to-use as well as customized Robotic Process Automation solutions for every function, enabling them to achieve operational efficiency with scalable automation.
RPA in Supply Chain
Simplified inventory, shipments, and materiel processing
RPA Robots handling end-to-end - Procurement to Production
Robotic Process Automation is being increasingly adopted within the supply chain for supply/demand planning, vendor selection/evaluation, inventory management and to attain faster cycle times. Organizations are taking an end-to-end Robotic Process Automation approach in the supply chain to gain full benefits.
Processes that have benefited from our intelligent RPA solutions:
Material Master Data Management
PR to PO Conversion (Automated PO creation for the Contract Items)
GRN Posting
MIS Report (Days of Inventory, Lead Time, Vendor Evaluation)
Ageing Inventory
Open PO
RPA Use Case - Accelerating Procurement process
Cloud4C has designed and built intelligent automation for Dodla Dairy, a leading dairy firm in South India, for streamlining processes - right from milk collection from 22+ lakh farmers to invoicing till distribution.
Based on their existing processes, the RPA solution was customized to meet their requirements. Automation solution included tagging milk from each farmer, categorizing based on weight, fat and SNF content, updating milk collection reports & truck sheets, sending alerts, posting Goods Received Note (GRN), and checking & calculating prices so that each farmer gets paid appropriately as per his produce.
Results
16 processes automated
950 hours saved monthly
40 % reduction in processing time
100% accuracy achieved
RPA in Supply Chain - Raw Milk Reception Dock (RMRD) process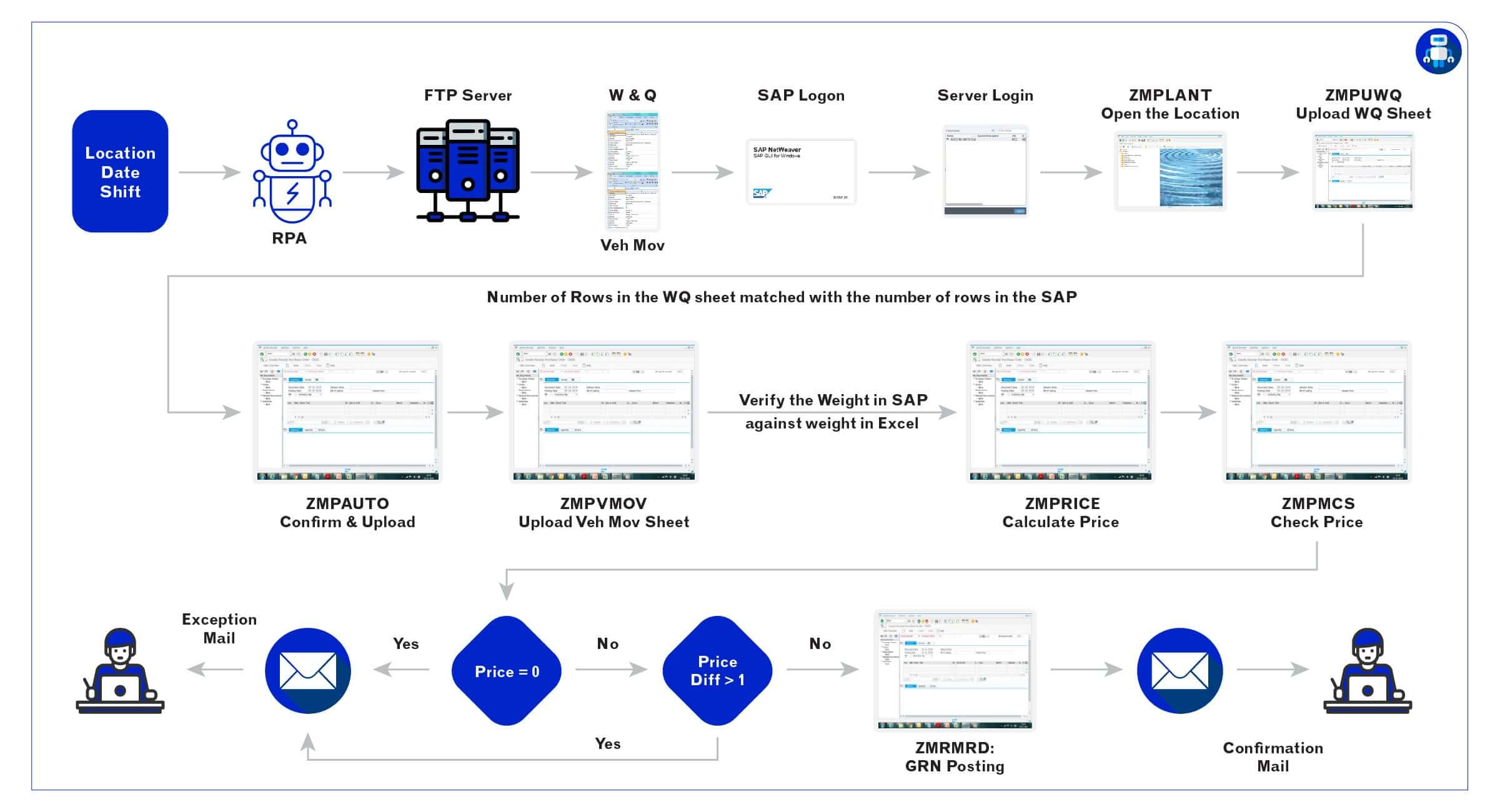 RPA in Finance and Accounting
Invoicing to payments planned perfectly
RPA Agents actively assisting organisations with their Finance functions
Finance and accounting teams in every organization are responsible for some business-critical processes related to invoices, payments, reconciliation etc., and with RPA solutions that are accurate, efficient, and compliant, these teams can automate their processes easily.
Processes that have benefited from our intelligent RPA solutions:
Bill payments
Bill invoicing
Vendor Invoice Processing
Agent Commission
Loan / Material Recoveries
GST Reconciliation
Bank Reconciliation Statement (BRS)
Payment Advice with UTR Number Reference Post BRS
Staff Pay Sheet Reconciliation
Intercompany Transaction Reconciliation
Unbilled Revenue Report Reconciliation
Deposits Reconciliation
Revenue Reconciliation / With and Without Taxes
Flight GST Recovery
RPA Use Case - Flawlessly processing Invoices
We designed RPA robots for many organizations that take care of their accounts payable processes such as accessing invoice documents, updating vendor information, validating, and processing payments.
At Cloud4C, we use an in-house Optical Character Recognition (OCR) platform to automate data capture from various structured and unstructured data formats (paper-based as well as online), also take care of accuracy and training required as per customer's processes.
RPA bots capture information present in the form of structured/unstructured data, and process that information, for correctness, based on some set-rules defined by the customer. The validated invoices are then updated into the SAP system, and notifications are sent to Administrators.
RPA in Finance - Invoice processing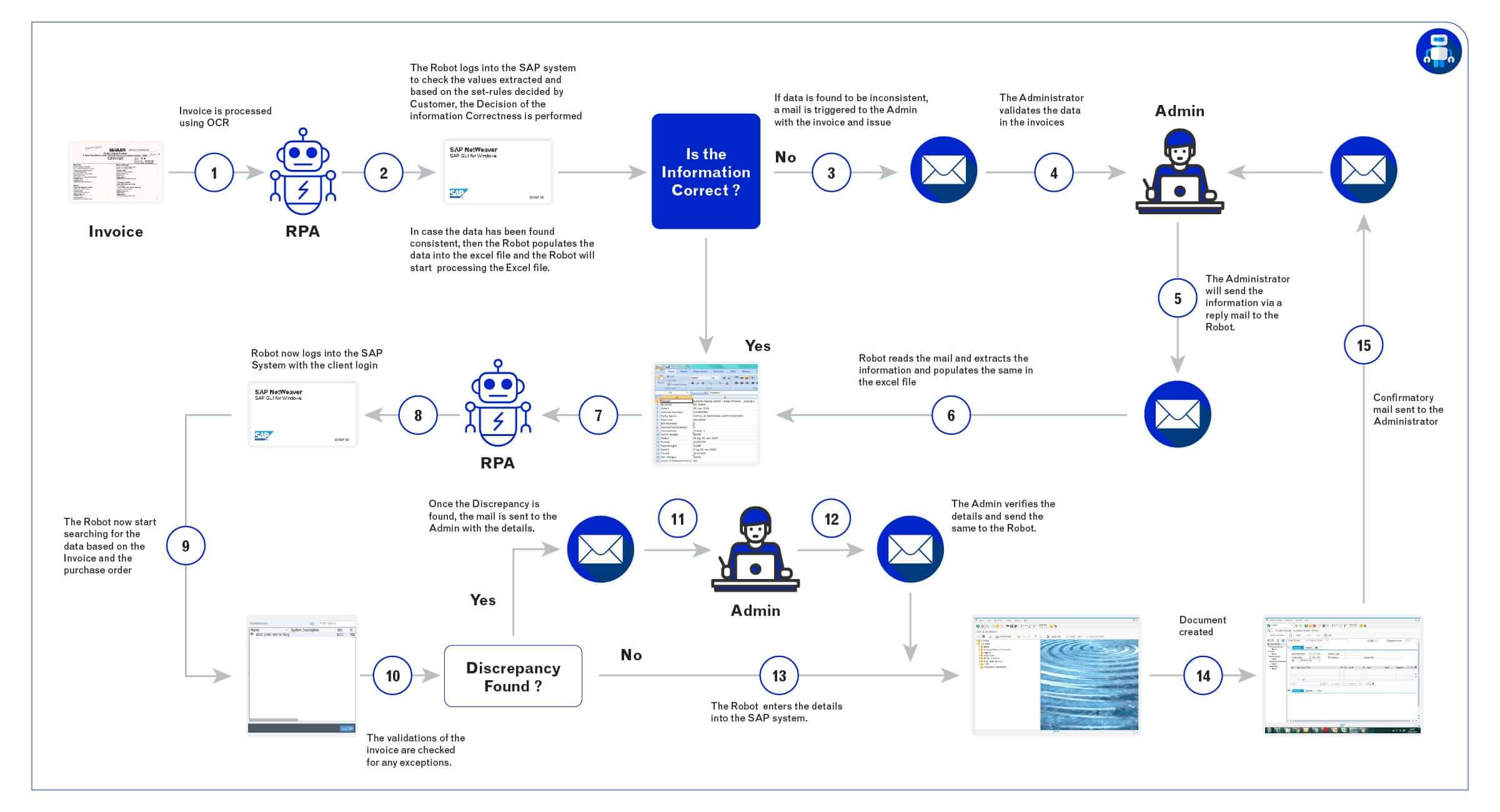 RPA in Human Resources
Automation solutions for High performing HR Departments
HR teams could now focus on strategic initiatives, with the repetitive tasks being subsumed by automation
To free up the HR team from repetitive data-intensive work and to let them focus on initiatives and employee development, it is crucial to automate certain mundane tasks handled by the team. HR teams are unleashing the capabilities of Robotic Process Automation to achieve their broader goals.
Processes that have benefited from our intelligent RPA solutions:
Employee Master Data Management
Absentee / Absconding Letter Publishing
New-Joinee Process Automation
Appointment Letter and Relieving Letter Automation
Employee Information System (EIS) Data Audit and Reports
Attendance reconciliation from Multiple Systems
Payroll Processing
Payslip Management
RPA Use Case - Accurately processing Payrolls
Automated payroll processing for an HR department at a major company. Implemented digital process automation interacting (extracting and updating) with the existing digital HR system (Oracle HRMS) that helped the HR team with attendance reconciliation, payroll processing, and payslip management.
This RPA robot automated attendance reconciliation, calculating, extracting, and sharing payslips with Employees, updating the information in the Oracle system, and notifying the Accounts to the team about the updates to the Ledger.
RPA in HR - Payroll processing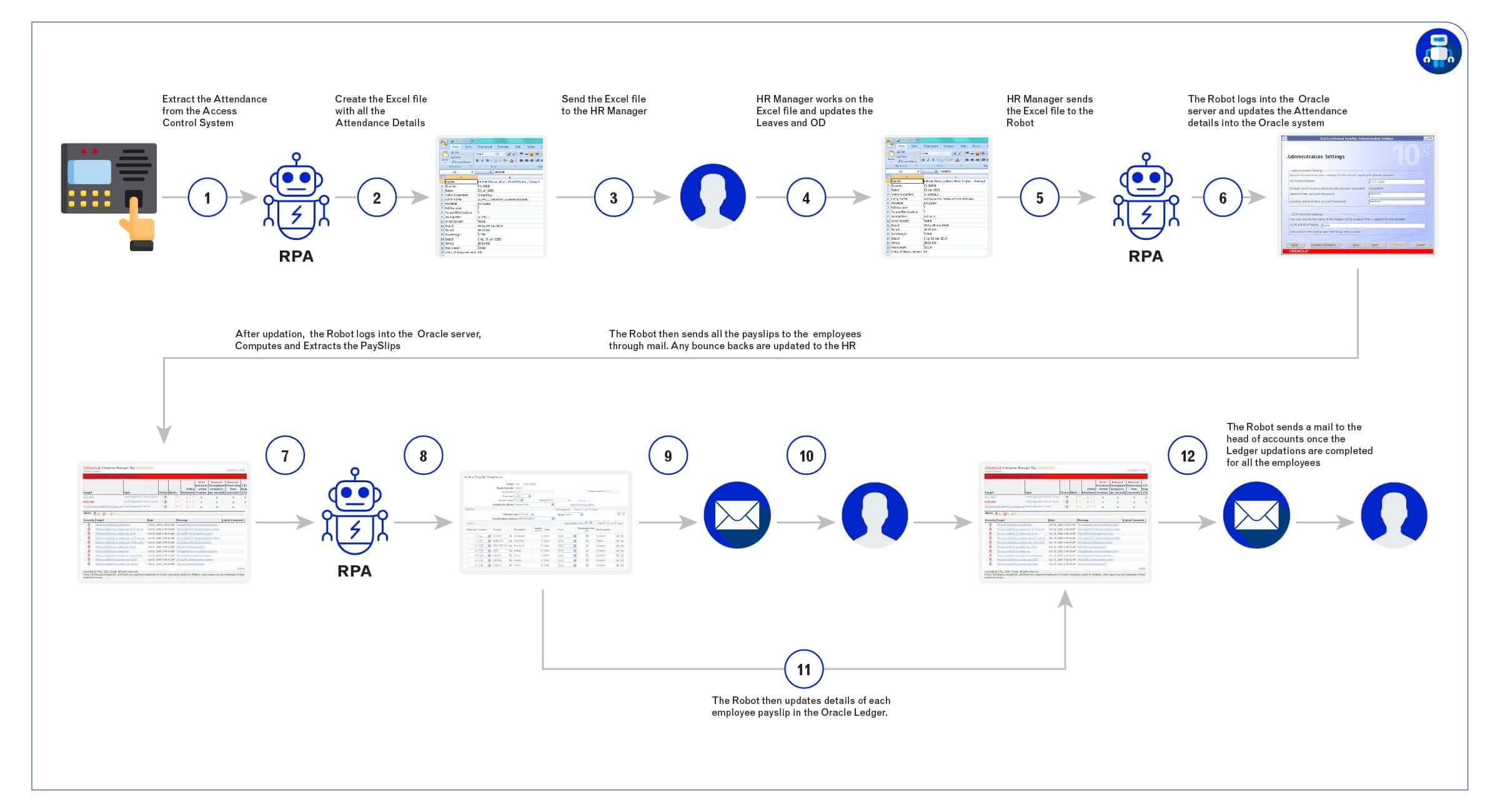 RPA in IT Services
Bringing back the focus on core functions
Routine tasks take up by Virtual IT Team members made possible through RPA
IT teams receive a lot of service requests that are simple and repetitive, and for such requests, all they need to do is follow some defined steps. A Virtual IT team member powered by Robotic Process Automation can offload the IT team with such requests, thereby helping the core team concentrate on higher priority or complex issues.
Processes that have benefited from our intelligent RPA solutions:
Self-help for Users services like Password Reset, Mailbox management, and 9 other activities
SAP Landscape Health Check
Infrastructure Compliance reports
Active User Reports
RPA Use Case - Optimizing IT services
At a leading firm, automated SAP health check activity, freeing their IT team to focus more on complex tasks. SAP health checks and status typically include some rudimentary tasks, which can be easily automated.
Their SAP landscape health check included working on 22 T-Codes that were being run by their (L2/L3) engineers and generating reports which were consuming an average of 2-3 man-hours. The RPA robot was introduced in their system to remove rudimentary tasks from their L2/L3 resources task list. This robot logs into all the systems in SAP landscape, runs 22 T-codes, extracts report, and, based on standard parameters defined, sends alerts for only cases that need L2/L3 engineer's attention.
RPA in IT - SAP Health check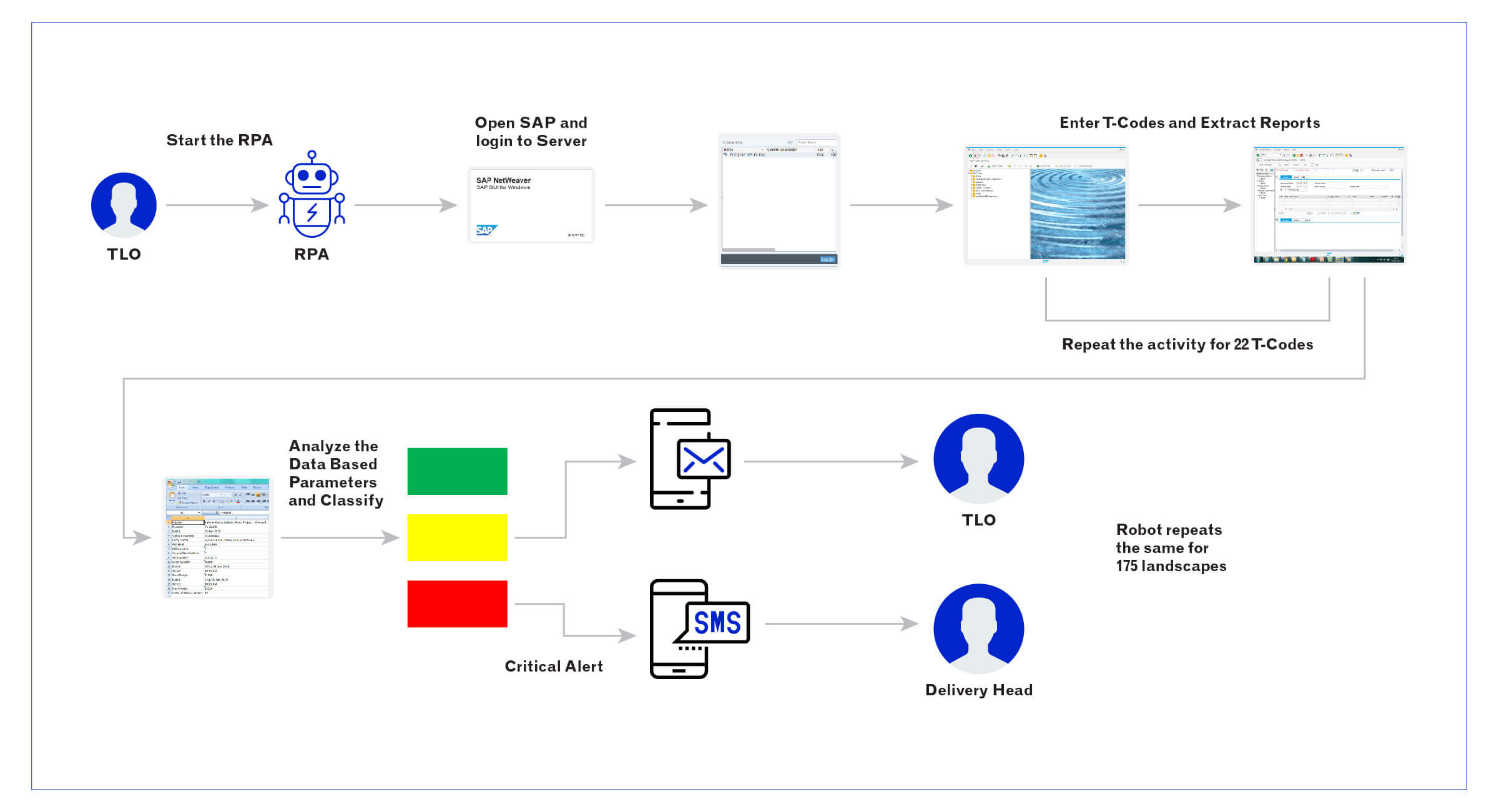 RPA in Sales & Distribution
Smarter Marketing and Business Development through improved workflows
Organisations achieving a robust Sales & Distribution regime through automated reporting and process workflows
Sales order tasks have a lot of dependency on manual efforts, also are tedious and error-prone. Organizations are leveraging Robotic Process Automation for not only chalking out a workflow that can take care of sales orders but for also creating reports that can provide insights to their management. RPA can also assist in keeping the customers informed about promotions or shipment status etc.
Processes that have benefited from our intelligent RPA solutions:
Sales Order Automation
Order Booking Process
MIS Reports
Customer Promotions
RPA Use Case - Automating month-end reporting
Preparing accounting reports at the end of the month can be a daunting task. We have helped organizations automate this flow, saving time, and effort that goes into creating these reports. Our RPA robots help in collecting data from various sources/departments, creating a consolidated Management Information System (MIS) report. It helps the management assess the performance of an organization and provides insights for better decision making.
RPA in Sales & Distribution - End of the month Accounting reports