Streamline And Modernize Your Processes With SAP Solution Manager
Using A Potent Tool For On-Prem, On-Cloud And Hybrid Systems
SAP Solution Manager helps streamline and modernize business processes, discover improvements, as well as take care of end-to-end application lifecycle management. It is hence a potent tool for increasing operational efficiency and reducing the effort required to manage centralized SAP and non-SAP systems running on-premise, hybrid, or on the cloud, all within SAP customers' existing license agreements -- no additional costs!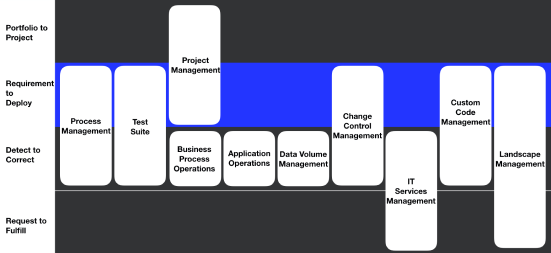 SAP Solution Manager provides the tools, functions, and processes required to capture requirements, implement, maintain, and run your SAP Enterprise Solutions. Using SAP Solution Manager core functional processes such as Application and Business Process Operations, Process & Project Management, Custom Code Management, Change Control, ITSM, Test Suite, Focused Build and Focused Insights, etc.; you can build, manage applications and run solutions on one integrated platform.
Cloud4C SAP Solution Manager Services
Helping Optimize SAP With A Robust Roadmap
We, at Cloud4C, aim to provide a clear roadmap and help you get the most out of the SAP Solution Manager's functions for optimizing your SAP projects.
With our proven SAP expertise and best practices knowledge from 180+ successful project implementations/deployments, our team of experts condense, rationalize, and optimize your SAP projects, enabling your organizations to create and deploy tested solutions with minimal disruptions.
Solution Manager Services Cloud4C Offers
SAP Solution Manager Roadmap Assessment
We conduct an initial assessment workshop, study your existing IT process, and identify functional areas that would benefit your organization. We then come with a customized roadmap to use SAP Solution Manager to simplify and optimize your SAP projects. We also provide an exclusive value report that includes expected benefits, implementation, or upgrade efforts in addition to the roadmap.
Application Lifecycle Assessment
In partnership with your organization, we analyze your existing IT processes and tools and interview your key stakeholders to help you measure the maturity levels of the existing Application Lifecycle Management (ALM) processes. We then identify and prioritize steps to optimize your ALM processes. We provide a report with all our findings, recommendations, and cost estimates for the initial implementation.
Application Management Support
Even after your Projects Go Live, our team will maintain SAP Solution Manager and free your teams to focus on other projects and operations. We provide multiple levels of support and ensure high availability of your IT processes. We also offer services for all SAP Solution Manager Functions and Modules ranging from solution documentation to test management, from monitoring to reporting, and from incident to change management, etc.
Integration With Other Tools/Systems
If required, we can also integrate existing tools or third-party tools/systems such as various incident management systems and process monitoring tools into the SAP Solution Manager. We follow standardized approaches to ensure that the integrations are successful and executed in the shortest possible time.
SAP Solution Manager installation/upgrade
Our technical team reviews your system architecture and supports installing or upgrading the SAP Solution Manager in your SAP landscape. In addition to this, we do a health check to ensure that there are no configuration problems in your SAP landscape and identify any issues that may have resulted from system changes. We report our findings and recommendations and enable you to optimize your Solution Manager maintenance.
Are you planning to upgrade to the latest version of Solution Manager 7.2?
See how we can help
SAP Solution Manager 7.2 Upgrade
Solution Manager 7.2 is the latest upgrade from SAP and is a one-stop-shop for most of the businesses. It provides a variety of new ALM functionalities, features and significant improvements to SAP customers. This version provides state-of-the-art support for SAP S/4 HANA, Agile innovation projects, hybrid/cloud-based solutions, and leverages the SAP HANA database.
Why should you upgrade to Solution Manager 7.2?
SAP recommends an upgrade to 7.2
Previous versions of Solution Manager are disconnected from SAP Backbone support
Benefit from the SAP's mainstream maintenance -- ensured until 2027
Powerful technical monitoring capabilities
Improved UX -- SAP Fiori based new landscape
Includes dashboard for monitoring metrics
Includes dashboard for monitoring metrics
GDPR compliant
Focused Build and Insights included
Free access to the latest and updated ALM tools: Custom code management, enhanced Process Management, Test Suite, Solution Documentation, etc
Available on SAP HANA for free -- does not need a separate license
How Cloud4C Can Help
A Risk-Free Approach To Modernized SAP Solution Manager
Cloud4C follows a risk-free approach to upgrade SAP Solution Manager without disrupting the business operations and comply with all the SAP standards. As a part of our installation and upgrade service, we help organizations with technical upgrades to Solution Manager 7.2, New Installations, Migration to SAP HANA for Solution Manager, Content Activation, and even help with updates to latest Service Packs.
Assessment Of Current Usage Scenarios
We check the existing usage scenarios with respect to the changes in the new releases and suggest whether an upgrade or a new installation should be done.
Complete Setup And Post Upgrade Activities
We make all necessary configuration settings, initiate support communications and content activation procedure (if needed), and execute post-upgrade activities related to your specific applications
Optimized Testing
Testing and dry run of Content Activation and Solution Manager platform.
Technical Checks, Preparation And Execution
We check readiness and ensure all prerequisites are in place for migration, sketch out a plan with detailed steps that should be followed as a part of the upgrade and perform and support the production upgrade procedure.
Take back-up and prepare for upgrade
Plan/prepare for content activation
Performing the actual technical upgrade and post-processing
Mapping Your Success With Cloud4C In Diverse Ways
How Solution Manager Services Can Bring Value
Assessing your existing SAP landscape and defining roadmaps for setting up and leveraging SAP Solution Manager as 'Single Source of Truth' for all your SAP implementation projects.
Shortening the time to market by delivering faster by leveraging pre-defined standardized functions and processes in SAP Solution Manager.
Reducing cost and time for IT administration by flawlessly integrating different processes, tools, and applications.
Assisting in improving architecture and making tasks more efficient in SAP systems.
Ensuring business continuity by increasing system performance and reducing the possibility of technical issues.
Monitoring IT infrastructure, simplifying communication, and improving reporting of your IT processes.
Adhering to best practices for test management and contributing to quality control processes.
Ensuring change control management and maintaining software quality standards.
Leveraging pre-configured SAP focused solutions for implementing customer-specific requirements.
Focused Solutions For SAP Solution Manager
SAP Focused solutions for SAP Solution Manager: Focused Build and Focused Insights are ready to run, pre-configured and automated solutions available to all SAP Solution Manager users. They are standard solutions for specific requirements with the added advantage of no additional coding costs, no integration issues and no upgrade risks.
SAP Focused Build

contains pre-configured SAP Solution Manager functions and processes to manage requirements and software developments in large, agile projects.
SAP Focused Insights

empowers you to build and share customized dashboards in minutes. It provides pre-packaged content and predefined Dashboard templates.
SAP Focused Run
Centralized, Scalable Platform For Partners & Service
Providers
SAP Focused Run is the solution for businesses that require advanced and high volume monitoring, alerting, diagnostics, and analytics capabilities. It is a powerful solution for partners or service providers who want to host all the systems/customers in one central, scalable and robust platform. It has the capability of handling large and complex SAP landscapes.
Cloud4C can help in implementing SAP Focused Run for your organization.
Check out our SAP expert and Service Delivery head, Kotilingeshwar Rao Vudhari presenting best practices of implementing SAP Focused Run at SAP Sapphire event 2020
SAP Focused Run Benefits
Operational Cost Savings
Simplified Monitoring Landscape
Improved Customer Satisfaction
Provides customers with generous usage rights
Reduced Operation Effort
Reduced resources Effort With Customer Onboarding
Enhanced Security
Network is established using IPSec Tunneling, and only limited ports are enabled
Automation & Add-on Monitoring Features
Inbuilt automation capabilities using scripts and also enhanced SAP application monitoring features.