93% of companies that lost their data for 10 days or more due to a disaster fled for bankruptcy within one year.
Keep your mission-critical applications running even during a disaster with Azure Site Recovery.
Any downtime or loss of data can result in lost revenue, lost customers, poor productivity, penalties or litigation, and damage your brand reputation. Cloud4C's Disaster Recovery as a Service framework is designed to meet the demands of enterprises such as delivering uninterrupted services and bringing resilience to their business models.
Cloud4C offers compliance ready, SLA based RPO/RTO DR services for mission-critical workloads leveraging multiregional and On-Demand infrastructure availability on Azure Platform. It is a comprehensive offering, which can handle the most diversifed set of applications, platforms and databases with end-to-end ownership during a disaster until the primary site restoration, all with a pay-as-you-go model.
Words that infuence our Extra mile of effort
The USP of Cloud4C is the out-of-the-box solutions being offered by them which helped us to quickly set up our Business Continuity Program.
Azure Disaster Recovery – Cloud4C Expertise
5000+ DR drills successfully completed
Zero Downtime and Data Loss Disaster Recovery solutions
Robust framework using industry standards - IT BCP Compliance ISO 22301 BCRS
600+ large enterprise IT DR customers
24x7x365 monitoring of DR setup with ownership of DR SLA.
4 tiered cloud-based recovery services with customized DR capacity
Total Ownership of Application driven RPO and RTO on minute-to-minute basis
DR on Any cloud, Any platform, Any Application, Any complexity - High Availability
Presence in 25 countries and 52 locations
Scalable on-demand Azure Infrastructure
Hybrid DR Platform on Azure
Azure Native and Third Party Replication Tools
2 DR Drills Annually
Azure Disaster Recovery - End to End Services from Cloud4C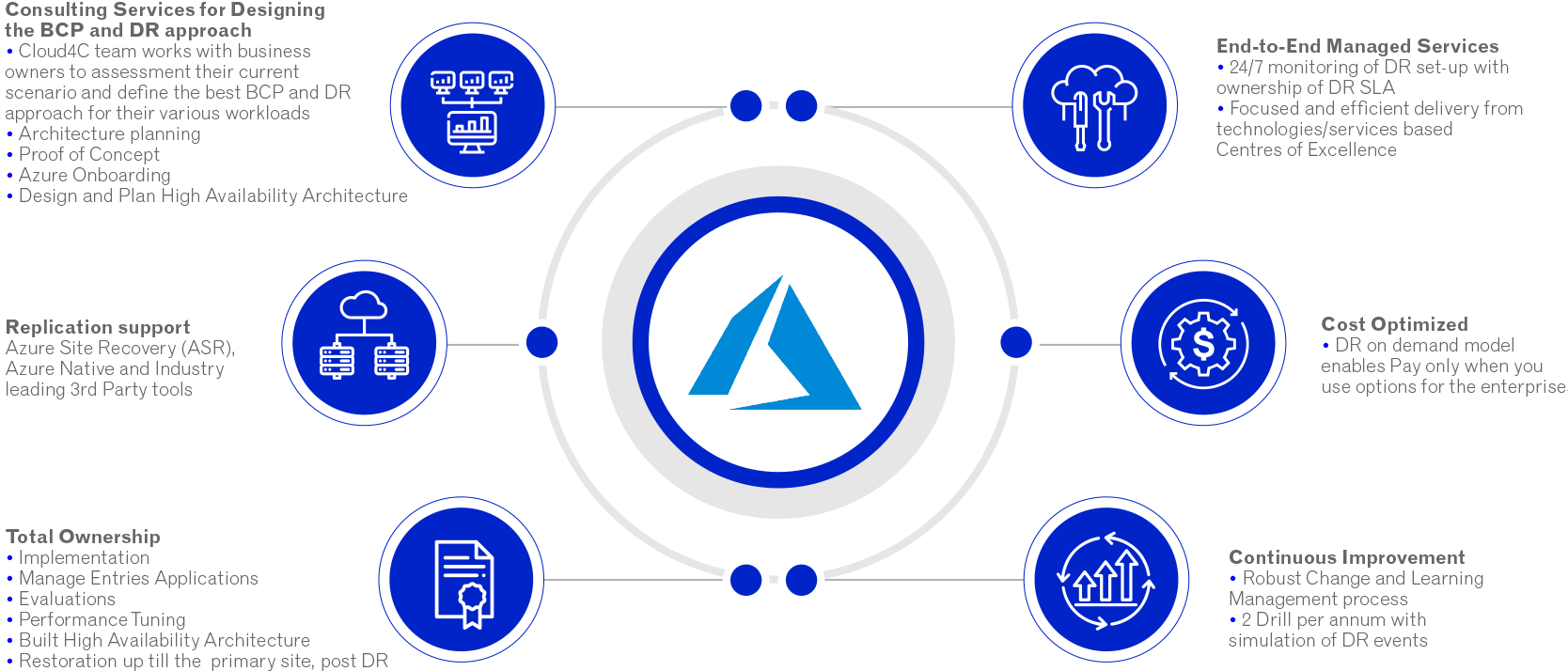 Cloud4C Expertise in Disaster Recovery as a Service (DRaaS) tools

Cloud4C - Deep Cloud Expertise to mitigate Disasters
Cloud4C enables orchestrated DR functions, including failover, failback, testing, and reverse protection.
Allows enterprises to deploy DR solutions to-and-from on-premises, and across public and private clouds.
Cloud4C keeps Recovery Point Objectives and Recovery Time Objectives in sync and under budget for an enterprise. Plus, it offers a compliance-ready and single Service Level Agreement on the Azure platform.
Whether it is data back up or replicating virtual servers at multiple locations around the world, rest assured, your disaster recovery plan is in good hands.
With Azure BCP and DR solutions, we eliminate vendor lock-ins and provide complete support for organizations to leverage any latest tools to install on to their infrastructure, and the same would be backed up in real-time.
Cloud4C's ISO 22301 BCRS based framework for Cloud-based BCP and DR
Steps to plan BCP and DR planning using Azure
Cloud4C's ISO 22301 BCRS based framework ensures digital resiliency for clients. We even cover natural disaster situations, technology failures, and counter cyber-attacks. Cloud4C's integrated capabilities ensure higher availability and scalability
Define the DR Strategy
There are several factors that govern a DRaaS strategy: RTO and RPO goals, storage, capacity planning, network bandwidth, network reconfguration, and daily change rate. Along with Cloud4C proprietary tools, we also use Microsoft-provided tools such as Azure Site Recovery Capacity Planner and Azure Site Recovery Deployment Planner to analyze an enterprise's source environment and compute requirements for the target environment.
Design the DR Site
Based on the client's choice of Recovery Time Objective (RTO) and Recovery Point Objective (RPO) Cloud4C's highly specialized team would plan the Disaster Recovery approach.
Achieve Your Recovery Point and Recovery Time Objectives - On Budget
Active-Active
With Active-Active Disaster Recovery, both the production and backup sites are active and continuously share the load. This makes nearly instantaneous recovery possible and helps to achieve the most stringent Recovery Point and Recovery Time Objectives (RPOs and RTOs) — providing an ideal solution for an enterprise's most critical data.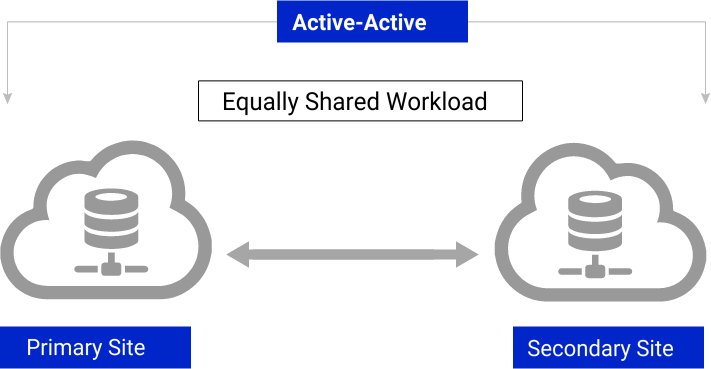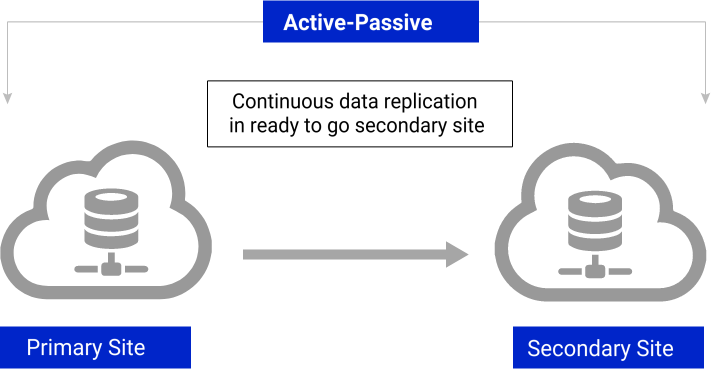 Active-Passive
With Active-Passive Disaster Recovery, an enterprise's data is continuously backed up at a ready-to-go secondary site and can be designed to failover automatically. This solution usually costs less than Active-Active, but an enterprise can experience some downtime while the secondary site comes online.
Active-Replicated
With Active-Replicated Disaster Recovery, an enterprise can have the peace of mind that their data is securely backed up, either offsite or onsite. This provides the lowest-cost solution, but recovery times will be longer.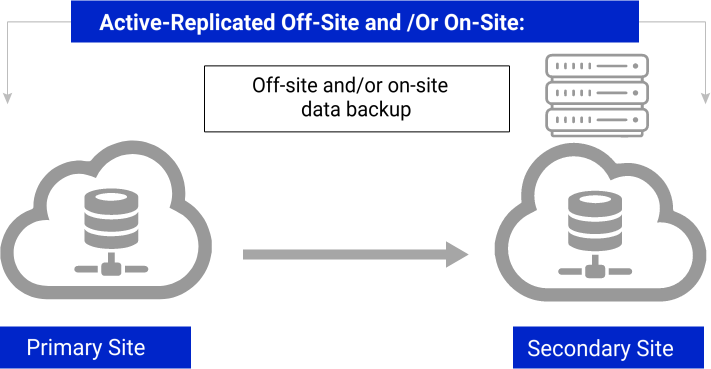 We have the experience of supporting clients with complex heterogeneous environments along with a huge number of server management capabilities across 25 countries. Our certifed partnership status with public cloud providers has enabled us to impact businesses irrespective of industry and geography. An enterprise can pick up any approach and Cloud4C provides the following services to enable BCP and DR on Azure for it.
True Ownership
Cloud4C's Disaster Recovery as a Service (DRaaS) ensures true ownership to enterprises in terms of implementation, maintenance and confguration of workloads on cloud. We offer a single SLA up to the Application login layer so that enterprises can be peaceful about their workloads even during a disaster.
Cost-Effective
Experience a customized Disaster Recovery design plan and deployment. Choose the service as per the needs and budgets of your enterprise. DRaaS is undoubtedly cost-effective as it eliminates the need to host servers on premise and deploy the in-house workforce.
Enterprise Backup solutions
The emergence of cloud technology is changing the data preservation landscape. It's time to create your disaster recovery strategy and know what you are doing when it comes to data backup.
Challenges with on-premise solutions for data backup
An expensive capital investment upfront.
Data durability issues
Risk of security breaches and equipment failures
Low storage capacity and limitations on scalability
Need for dedicated IT resources assigned to manage and maintain these systems.
Risk of data inaccessibility due to on-site issues like power outages, server failures, natural disasters and lost data.
Unpredictable RPO and RTO SLAs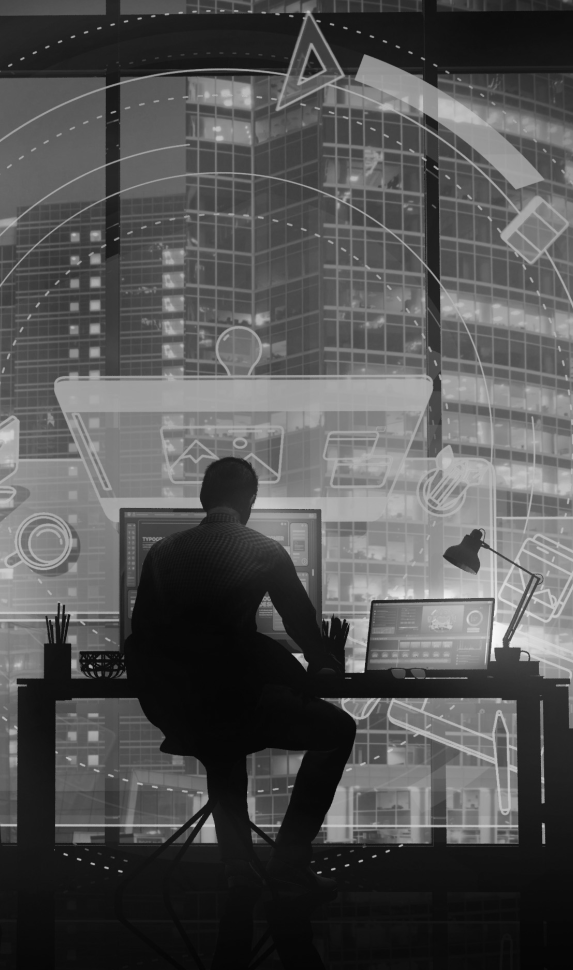 Cloud4C Enterprise Backup Solutions
Our expertise with all leading Public Cloud platforms makes it easy for us to maintain and manage enterprise backup in hybrid cloud environments. We abstract complexities and integrate solution components presenting a reliable and cost-effective solution that extends to hybrid environments. Cloud4C automates processes, operates and manages the solution and offers 24/7 support with an assured SLA irrespective of environment landscape.
Please fnd below the scope of services Cloud4C offers
Cloud4C Enterprise Backup Solutions
Validate pre-requisites for agent installation
Firewall policy implementation
Configure backup communication network and backup policy template
Install backup agent installation in source machines and defne targets
Schedule backup jobs and manage backup storage
Create and manage backup retention policy
Configure alert on backup job failure
Monitor backup jobs for successful backup
Troubleshoot and trigger halted backup(s)
Restore the backups in case of disaster/data loss/storage failure
Create backup policy documentation
Generate backup summary report on periodic basis
Perform backup storage optimization
Create, automate and manage lifecycle rules for cost optimization
Integrate with Public Cloud platform services for data sovereignty and industry compliance needs