Where Innovation Meets Empathy and Experience
Cloud4C has turned into the world's largest automation-driven application-focused cloud managed service provider. The transformative vision of our entrepreneur Sridhar Pinnapureddy has helped us go beyond the ordinary and achieve world-class dominance with unique solutions for each enterprise.
Our Way

Ahead

We created Cloud4C with the aim of helping enterprises grow. We plan to do this through constant digital innovation. Our commitment is not limited to an enterprise's cloud strategy but how each decision impacts their business goals and, in turn, future.
Meet Our
Team
The people who have shaped the Cloud Leadership Team
Sridhar Pinnapureddy
Chairman, CtrlS & Cloud4C
Sridhar is the Founder and CEO of Cloud4C, the world's leading cloud Managed Services provider serving Fortune 500 clients, and CtrlS, the world's largest Rated 4 Datacenter with an enviable client portfolio. He is a pioneer in the information and communications industry and has spent the last two decades building innovative technology solutions in the areas of cloud computing and infrastructure, energy management and software development.
As a first-generation entrepreneur, Sridhar has founded several companies to date and has been credited with launching several industry firsts, including DR as a Service (DRaaS) and the world's 1st Community Cloud for Banks. He is also the Founder and Chairman of Pioneer Group of companies which has interests in Internet, IT services and IT Infrastructure. An entrepreneur who always looks to give back to the entrepreneurial community, Sridhar is closely involved with TiE (The Indus Entrepreneurs), a nonprofit organization devoted to empowering entrepreneurs in all industries and at all stages.
Board of Advisors
Patrick Pitcher
Consultant
Patrick Pitcher
Consultant
With an extensive work portfolio spreading across 4 continents and multiple organisations - Patrick Pitcher is renowned for his leadership, inclusive team-building style, clear strategy and stellar business results.
Patrick has held mighty directorial roles. He was the worldwide executive board CEO for The Asia Pacific and Africa regions for Saatchi & Saatchi Advertising for 21 years. Under Patrick's leadership, Saatchi Asia Pacific was ranked No1 globally in new business revenues for the group and for-profit improvement. He transformed management in Asia and upgraded talent by appointing 7 highly successful female country CEO's.
Patrick had also been a board director for Singapore Tourism Board and has worked for WPP The Asia Pacific and Unilever & Johnson & Johnson in the early stages of his career.
Married for 40 years and blessed with wonderful children and grandchildren, Patrick loves traveling back to his home country, South Africa with his family every year.
Terrence Yong
Board Member, Chairman - Malaysia
Terrence Yong
Board Member, Chairman - Malaysia
Terrence Yong has recently joined Cloud4C as a Board Member to help Cloud4C pursue the strategic vision for the Malaysian region and deliver greater value to the shareholders. Terrence is responsible for shaping up strong organizational culture and ethos to help Cloud4C create a differentiated market position.
Terrence brings with him 22 years of vast industry experience spread across product marketing, operations, strategic management of the SME and Enterprise business. Terrence is the former Managing Director of SAP, Malaysia. He also holds multiple advisory positions.
Terrence earned a Bachelor's degree in Electrical and Electronic Engineering from the University of Melbourne, MBA in Finance from Alliance Manchester Business School, and Executive Diploma in Directorship from Singapore Management University.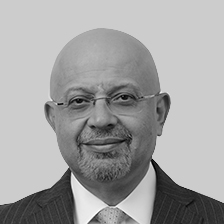 Anil Jaggia
Strategic Advisor, Banking Practice
Anil Jaggia
Strategic Advisor, Banking Practice
Striving for the best, with the best
Talk to us