Desktop As A Service
(DaaS)
Desktop as a Service is a cloud-based desktop virtualization service that provides virtual desktops, apps, etc., from the cloud. Thus, enabling the users to access their virtual desktops from anywhere, at any time, and on any device. A Cloud Managed Service Provider like Cloud4C manages all the resources, including storage, compute, network infrastructure, etc., offloading the internal IT teams.
Cloud4C, a leading DaaS provider, with its Desktop as a Service, is assisting enterprises in making a shift to a virtual workspace securely and with zero disruption. We offer infrastructure that is proven to be the best in class and provide enterprises the ability to automate and simplify their desktop management. Cloud4C offers DaaS solutions with end-to-end managed services backed by a single SLA throughout and with dependable infrastructure.
69% of Global Enterprises will be adopting Desktop Virtualization by 2021
By 2024, DaaS utilization in Managed Workplace Services (MWS) will quadruple and become half of all managed endpoints, rendering corporate-issued PCs unnecessary
- Gartner.
36% of Fortune 2000 CISOs have deployed VDI or DaaS solutions for their WFH requirements.
Benefits 
At glance
Desktop as a Service offers great flexibility to the enterprises in selecting the best solution, in line with the TCO, security, geographical reach, and third-party services.
DaaS also provides a multi-tenant hybrid experience, which helps enterprises provide remote access desktops from multiple clouds with a single control console for seamless control and administration.
DaaS is also a subscription model, like many other cloud service offerings, and provides the flexibility to scale on-demand and pay as you go.
What Our Clients Say?
"We subscribed Cloud4C's cloud services to support our critical applications, and right from the word go, they delivered services surpassing our expectations. We would summarize our total experience with Cloud4C as Exemplary."
Confused between VDI & DaaS and when to choose what?
Read our VDI vs DaaS whitepaper
End-to-End
DaaS Services
Phase-wise Approach Works Best
Cloud4C follows a phase-wise approach for DaaS implementation to help enterprises get started with their digital workspace.
In phase 1, we begin with introducing the Cloud4C Cloud Adoption Framework that we follow for implementing cloud solutions and brief about various DaaS use cases and possible scenarios. We understand the organization's business/security/compliance needs and their IT standard operating procedure. We assess the landscape for building DaaS, which includes AD / File servers/ Desktops / Laptops / DaaS (if deployed on-premise).
Introduction of Cloud4C Cloud Adoption Frameworks - Daas Solutions
Introduction to Cloude DasSuso case and scenarios
Understand the landscape for building the DaaS > AD/File servers/Desktops Laptops DaaS Con premise it deployed)
Understand the Organization Security Compliance need
Understand the IT standard operating procedure
Duration - 1 Day (4-6 Hours)
As part of phase 1, based on the assessment data and the inputs from the business team, we prepare DaaS Blueprint and Landing Zone Design. We set up DaaS user profiles, map profiles with user categories, integrate with Active directory and provide a detailed plan for Data migration from on-premise to Cloud, Sync back solution (for migration case), DaaS security, and backup. We also provide commercial estimates and deployment timelines for implementing the solution. At the end of this phase, we deliver a DaaS blueprint and landing zone design based on the reference architecture/approach.
Prepare DaaS Blueprint and Landing Zone Design
DaaS user profiles
User category with Profile Mapping
Process of Accessing the Daas
Azure Landing Zone
Active Directory Integrations
DaaS Security
Backup
Data Migration form on-premise to Cloid and Sync back solution (for migration case)
Commercial Estimates
Deployment Timelines
Duration - 1 Day (8-12 Hours)
In phase 2, we set up the required cloud subscription, create landing zone, AD users & policy/ sync from on-premise. We also configure Multi-Factor Authentication (MFA)/ Privileged Identity Management (PIM). We build DaaS Profiles and Environment and test the Profiles. In the case of on-premise data, we migrate & test. In addition to this, we also configure backup of DaaS infrastructure and Sync with on-premise storage (optional). After the deployment/migration is completed, we test and as a part of our fully managed virtual desktop solutions, we constantly monitor the health of these virtual desktops to identify & troubleshoot issues (if any).
Deployment/Migration of DaaS Environment
Azure Subscription
Create Landing Zone
Create AD Users & Policy/Sync from On-premise
Configure MFA/PIM (if required)
Build DaaS Profules and Environment
Test Profiles
Migrate on-premise data
Test and Commission
Configure Backup of DaaS infrastructure
Configure Sync with on-premise storage (optional)
Duration - WVD - (1-2 Weeks)
Top Reasons
To Adopt DaaS
To make the most of remote and mobile work, enterprises need to understand and address the major challenges that come with it. They need to pay keen attention to the technology and security needs of the employees while ensuring business continuity.
With remote work becoming a norm, it is challenging to get insights into how the company data is being used, as sometimes it may lead to misuse or loss of data.
With employees working from home, there is a security threat to sensitive data residing on the employee device. Also, there are high chances of data not being handled as per the compliance regulations.
With growing teams, IT Administrators are spending a lot of time setting up systems for new users, scaling up infrastructure, upgrading software on systems, etc., all of which is getting complicated and time-consuming.
With enterprises investing in procuring IT systems and manpower, they often encounter situations such as unused capacity and obsolete systems, resulting in increased infrastructure costs.
DaaS -

The Benefits
Cost Optimization To Scalability - Made Possible
There is no denying that the way enterprises work has changed completely. From the conventional office-based workforce, enterprises are now swiftly moving towards remote working and increased reliance on public cloud/data centers for their IT Infrastructure needs. With employees working from different geographical locations, enterprises strive to offer secured, flexible, and scalable Digital Workspaces while also considering the cost, agility, productivity, and business continuity. What better solution than Desktop as a Service to aid enterprises in this sudden and comprehensive transition? And this transition can be smoother by partnering with DaaS providers.
DaaS providers such as Cloud4C provide end-to-end cloud-based virtual desktop services. With Cloud4C's Desktop as a Service, enterprises can take a back seat and focus on other critical business issues, while Cloud4C handles the setup, patch installations, Operating system(OS) upgrades, system updates & maintenance, etc. for their virtual desktops.
Control IT/Infrastructure Costs and Lower Total Cost of Ownership (TCO)
Control IT/Infrastructure Costs and Lower Total Cost of Ownership (TCO)
Flexibility & Scalability
High availability & Business Continuity
Desktop as a Service (DaaS) is a fully managed cost-effective solution that lets you avoid upfront costs of on-premise infrastructure and allows you to choose from flexible consumption/subscription models based on the number of added or removed users. More importantly, it ensures that your data is secure in a remote data center and your business runs uninterrupted. Also, the costs of bandwidth, software licenses, maintenance, and security come under the single cost of service.-lowering the total cost of ownership (TCO) to the enterprise.
With the DaaS solution, data is not stored on devices, it is safely secured on the cloud data centers, which makes it difficult for miscreants to copy or move data to a different device. Dass follows a security-first approach and prevents unauthorized access to cloud storage through advanced access control and security policies.
We at Cloud4C ensure that the authentication controls/multi-factor authentications are in place for enterprises availing our remote desktop services. Our compliance-ready DaaS solutions meet all industry regulations and provide a seamless transition & uninterrupted performance, end-user experience.
Leveraging Desktop as a Service (DaaS), enterprises can easily provide virtual desktops to a large number of remote employees. DaaS allows you to quickly respond to the emerging needs of the users/organization and scale the virtual desktops up/down based on the end-users requirement. It also supports a wide range of devices providing users the flexibility to access desktop virtualization from a wide variety of endpoint devices.
Desktop as a Service enables enterprises to take care of business continuity, reliability, and data integrity by provisioning secondary workspaces. As a Desktop as a Service provider, Cloud4C guarantees high uptime and high availability of resources backed by a single SLA. The capability of delivering remote desktops & apps to remote employees is a befitting addition to the cloud automation stack of future-ready enterprises.
The Cloud4C Differentiators
Good Capabilities That Better Cloud Enabled Outcomes
Intelligent Managed services powered by AIOps.
Automated Deployments & Management - saving time and cost
Uninterrupted, remote support availability even during challenging times such as COVID-19
Pay as you go model - No investment for hardware and software
Tech agnostic DaaS offering - Azure, AWS, Citrix
High Availability with Single SLA up to managing the DaaS
Pre-met compliance with local regulatory and industry-specific frameworks & guidelines
Around the Clock Monitoring for overall health and actionable insights
An end-to-end solution including Managed services and Security services (Hybrid SOC) as per customer requirement
Easy scalability of infrastructure in minutes
Built-in business continuity with backups & disaster recovery ensuring the protection of user data and DaaS
Quickest assessment & implementation of DaaS
The Cloud4C

Advantage

2000+

Certified Cloud experts

5000+

Successful VDI instances

40000+

VMs migrated and managed on the cloud

25000+

Apps and DBs migrated

52

Cloud Pods in 25 countries

25

Centers of Excellence (CoEs) & 24X7 Support with NOC & SOC
We

Support
Explore The EcoSystems We Support
Desktop As a Service

- Our Perspective
Explore Our Related Resources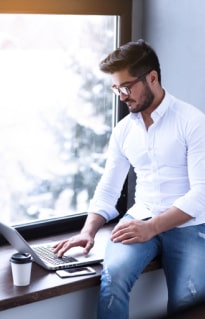 Power of Work-From-Home: Role of Desktop As A Service In The Post Pandemic Normal
With the rising popularity of 'Cloud First' technologies, Daas is fast becoming the new normal in delivering desktop interfaces to clients.
VDI or DaaS: Is One Better Than The Other?
There is no denying that the maintenance of legacy systems has become a very difficult task. Desktop sand laptops will always need constant updating, patching, and malware scans for their security...
DaaS -
Frequently Asked Questions (FAQs)
What is Desktop as a Service (DaaS)?

-

Desktop as a Service (DaaS) is a VDI solution that ensures virtual apps and desktops are securely delivered from the cloud.

It safeguards SaaS, Windows, Linux-based virtual desktops, and legacy applications.

It is easily scalable and is a le, as it is readily available on a subscription basis. Enterprises can increase or decrease, keeping the business needs in mind, which keeps the expenditure in check.

Why should enterprises use DaaS?

-

Enterprises who want to provide their workforce with access to all data/apps anywhere, anytime must use DaaS. It helps the enterprises in many ways, and here are some benefits listed below:

Lower upfront costs
Reduce the total TCO of the virtual desktops
Quicken the uptime of delivery, improve productivity, flexibility, and agility
Offer a great end-user experience.

How does Desktop as a Service (DaaS) work?

-

DaaS delivers Virtual Desktops & Apps on Public or Private Cloud. The infrastructure, Storage, and other resources are hosted in the Cloud and streamed to the User's device. Users can access it via a secure app or a web browser. Based on the need/requirement, the number of virtual desktops required can be increased or decreased and will be charged as per the consumption.

What is the difference between VDI & DAAS?

-

Virtual Desktop Infrastructure (VDI) is a form of desktop virtualization where desktop environments are hosted on a centrally managed server. Usually, the specific desktop images are run within a virtual machine and can be delivered to end clients via a network.

While Desktop-as-a-Service (DaaS) is a form of Virtual desktop service where virtual apps and desktops are securely delivered from the cloud to any device.
Accelerate User Productivity & Attain Improved Security
Fill out the form and get connected with our DaaS Experts