DevOps as a Service
80% of enterprises will face delay in project delivery due to lack of organizational collaboration and IT maturity. - Gartner
The rapidly evolving market demands businesses to be agile and fast with production while improving the quality and reducing costs. As a leading DevOps service provider,  Cloud4C offers end-to-end DevOps services designed to enable enterprises deliver applications at breakneck speed while increasing scalability and uptime.
DevOps Services for Agile Enterprises
DevOps is a way to align people, processes, and technology through DevOps tools to enable unified application delivery and improved business agility.

Process
Best practices: Processes and methodologies
Procession automation and workflows

People
End-to-end implementation
Strategy and Roadmap workshops
Maturity assessments
Reference architecture

Technology
Tools deployment and third-party integrations
Templates and accelerators
Efficient usage of DevOps tools along with Agile development has undoubtedly enabled faster go-to-market of software and applications. By replacing manual tasks with automation, organizations have been able to respond faster, eliminate the roadblocks in process and keep up with the relentlessly changing business environment.
Accelerate your application deployment and frequency, expedite your artificial intelligence and machine learning initiatives with Cloud4C DevOps Services built using industry best practices, leading tool chains, and cloud-native tools.
The sheer scale, complex operational models and geographic expanse of an enterprise can make implementing the DevOps agenda across the organization a serious challenge as a successful implementation requires organizational commitment, introduction of automation, and the right tools and infrastructure.
Learn how a leading financial services platform in Asia brings operational efficiency and cost savings through infrastructure optimization and better resource utilization.
Cloud4C - Your Partner for DevOps Services
DevOps services at Cloud4C are designed to increase collaboration and communication between the conventionally siloed Development and Operations teams. By encouraging collaboration, the philosophy allows enterprises to focus on delivering key business values and ensure more frequent software deployments. Learn more about how migrating to DevOps can help you bring agility to your business process and ensure a faster go-to-market-
Containerization and Orchestration
By adopting microservices architecture, development teams can adopt 'cloud-native' approach, evolving and modernizing their workflows for higher efficiency and quality.
Readiness Assessment helps customers to convert the monolithic apps to cloud-native architecture, powered by containers and orchestration such as Kubernetes.
Microservices Approach Consulting
Scale is driving the internet-based ecosystem to Microservices. This paradigm shift requires completely different strategies and implementations.
Our experts can help an enterprise arrive at the right Application Architecture Strategy, coupled with right DevOps tools and support to ensure that the Microservices Management can be simplified.
Containerization, Kubernetes and CI/CD Pipeline Set-up
Set up CI/CD pipeline for end-to-end deployment.
Cloud4C delivers scalable and cost optimized infra as well as DevOps processes for Microservices-based applications via next-gen Containerization and Management. We eliminate the risk and uncertainty associated with Microservices management.
Cloud4C DevOps Practice
DevOps methodology directly impacts several stakeholders in an enterprise starting from customer service, marketing, product owners, project managers, program managers, developers to quality assurance teams, release and build teams, and infrastructure teams. In order to drive value faster, all of these stakeholders require end-to-end visibility of the entire workflow, from planning to feedback.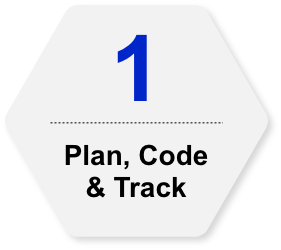 Understands requirements and develops codes from leading technologies
Commits updated code to Version control system with proper branding part of Continuous Integration best practices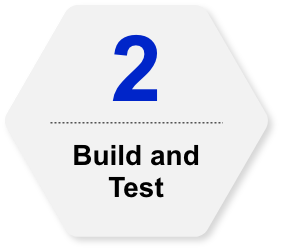 Building continuous from latest code committed in version control system
Imports and executes test cases from testing tools say
Tests latest building using automating test engines as part of continuous testing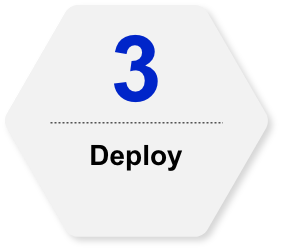 Once tested and validated, each change is deployable using continuous delivery practices
With Continuous Deployment (CD), the entire process from code commit to production is automated
Continuously deploys successfully built filed anywhere to target environments - created by various virtualizations/containerization tools
Expertise in the leading configuration management tools to manage infrastructure
Faster and secure delivery of software by automating infra management
Continuously monitors infrastructure using various monitoring tools that let enterprise visualise events and get alerts in real time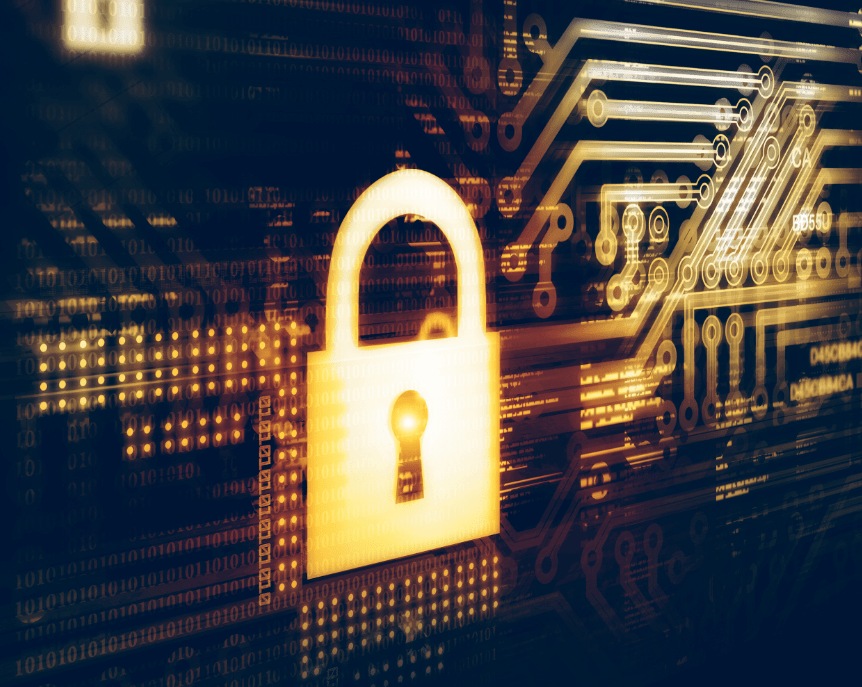 Full Suite of Cloud4C DevOps Services
Whether you are planning to embrace DevOps for the first time or scale it across your enterprise, our full suite of DevOps services can help you choose the right strategy, tools, and skills to drive greater adoption. To ensure an effective implementation of your DevOps initiatives, you must bring in security across the development life cycle replacing out of date practices with an integrated approach. Being an end-to-end DevOps service provider, we recommend integrating security in your entire development life cycle as we help our partners determine their risk tolerance and required level of security controls for a given app through DevSecOps, a philosophy that offers better visibility, insights and feedback on potential threats.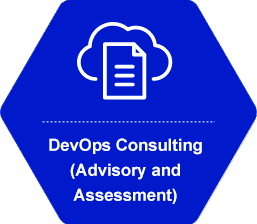 Audit and maturity assessment
Architectural consulting and solutioning
DevOps Coaching and enablement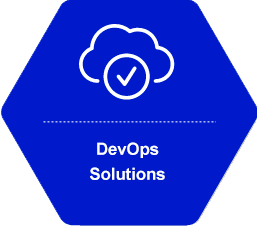 Infrastructure automation and management
Software configuration and management
Continuous integration and deployment
Monitoring instrumentation and self-healing
Containerization for seamless microservices management
Microservices consulting services
Software configuration and management
Instrumentation and insights Support ecosystem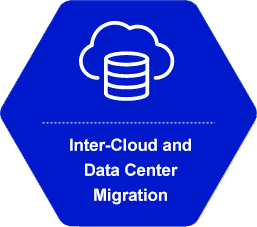 Cloud strategy and approach consulting
Cloud infra setup
Cloud migration
Cloud security and audits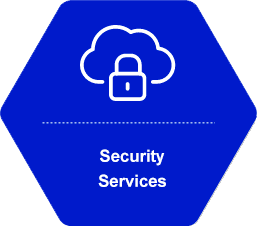 Security audit and assessment
Security implementation
Security instrumentation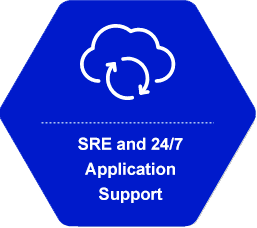 Site reliability engineering
Application Support L1
Application Support L2
Cloud4C DevOps Services: Implementation Methodology
As an end-to-end DevOps service provider, we take a collaborative approach to address the challenges faced by the organisations and ensure our client success through 'Continuous Planning', 'Continuous Integration' and 'Continuous Delivery'.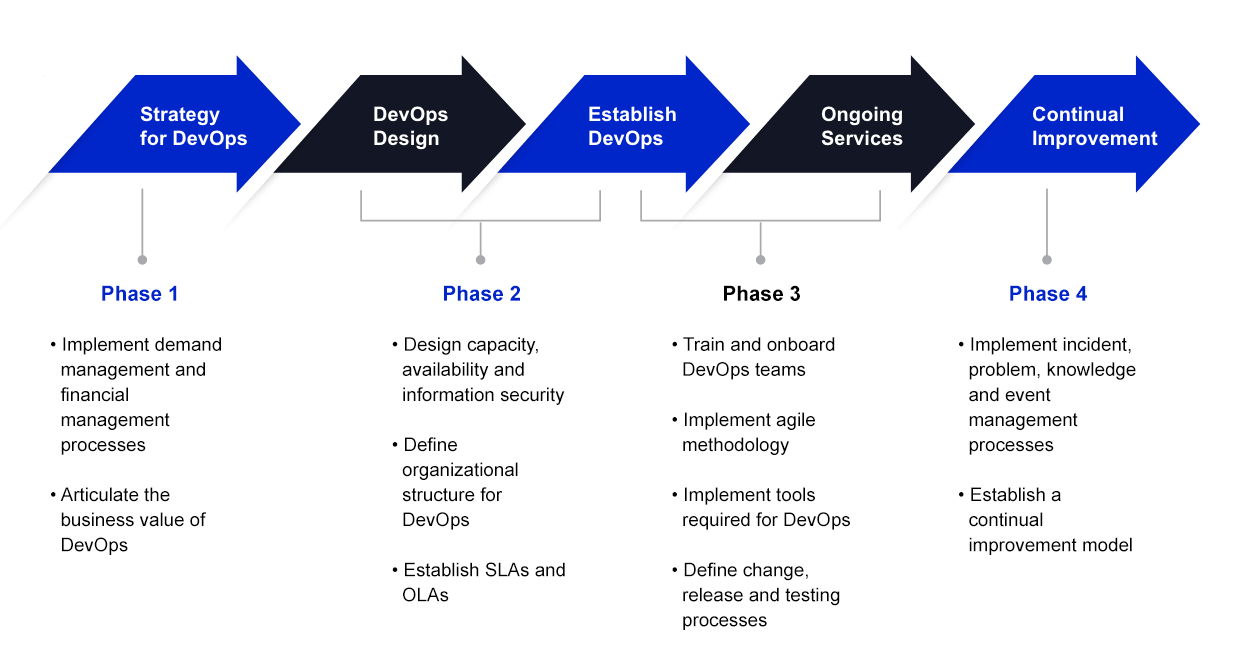 What Makes Cloud4C a Leading DevOps
Service Provider - Key Differentiators
Higher Uptime
Leverage the power of automation to maintain higher uptime and reliability to your end customers
+
Reduce engineer burnout
Efficient management of system alerts
Better agility, higher speed
Reduced Time to Market
Increase the rate of successful deployments through effective mechanisms
+
DevSecOps enabled CI/CD
Zero-touch infrastructure automation
Automated software configuration
Comprehensive observability
Bots to accelerate in various stages of the CI/CD pipeline
Secure and Cost-optimized CloudOps
Harness the complete power of cloud with a security-first approach at affordable cost
+
CloudOps centered around security
Automated infra build for reduced cost
Automated build and deploy topology
Instrumentation for observability
Continuous application monitoring
Increased scalability and independence by containerization
Eliminate risks and uncertainty associated with Microservices management
+
Define Microservices DevOps strategy
Managed container orchestration
Scalable and cost-optimized infra
Cloud-agnostic setup
Future-Ready DevOps Delivered
Solutions designed to address ever-mutilating security issues
+
DevSecOps enabled CI/CD pipeline (Already mentioned under differentiator No. 1)
Fully secure infrastructure
Regular security alerts
24/7 automated security monitoring
Centralized Log Analytics
High Reliability and Predictability
A combination of Enterprise-Grade Tools and Cloud4C tools to enhance reliability and predictability
+
Expertise on tools managing the complete lifecycle of DevOps
GLA-based UAT and Deployment
Support up to L4
MultiCloud DevOps Delivered
With Infra, Database and App modernisation, complex multi-cloud environments need full-spectrum DevOps to drive the CI/CD pipelines across hybrid virtualization, containerization, and serverless fabrics
+
Full-spectrum DevOps to drive the CI/CD pipelines
CI/CD for IaaS, PaaS and SaaS components
Frameworks for full-spectrum multi-cloud DevOps workflows

Speed:
Lesser time to deploy and deliver a DevOps environment using Dockers and Containers native to cloud

Enhanced Security:
WIth Continuous Vulnerability Assessment & Penetration testing (VAPT) scans using industry leading tools like Burp, Qulays

Efficiency:
Industry Knowledge Base driven DevOps for better product adoption and operation

Faster Go-to-Market:
Products taken faster to the market with automated testing

Better Collaboration:
Better collaboration within and beyond IT by creating an inclusive value stream

Superior detection and correction:
More visibility and transparency between teams and processes leading to early detection and correction of issues

Quicker Feedback & Continuous Improvement:
Optimize performance, time to deployment and cost through testing, learning and incorporating feedback
Cloud4C DevOps Toolkit Expertise
Cloud4C is one of the leading DevOps service providers, an Azure Expert MSP and a recognized Consulting Partner of AWS. Cloud4C has successfully assisted thousands of organizations across the globe in their cloud transformation journey by leveraging the best DevOps tools. Whether it is a greenfield Cloud/Multi-cloud environment equipped with Continuous Integration and Delivery processes or introducing automation to an established environment, Cloud4C's certified cloud experts and DevOps tools can help you build your DevOps capabilities.
Configuration
Terraform
Ansible
SaltStack
CI/CD
Jenkins
CodeDeploy
Azure Pipeline
Bamboo
Database
Hadoop
MySQL
PostgresSQL
Oracle
mongoDB
AWS DevOps Tools
X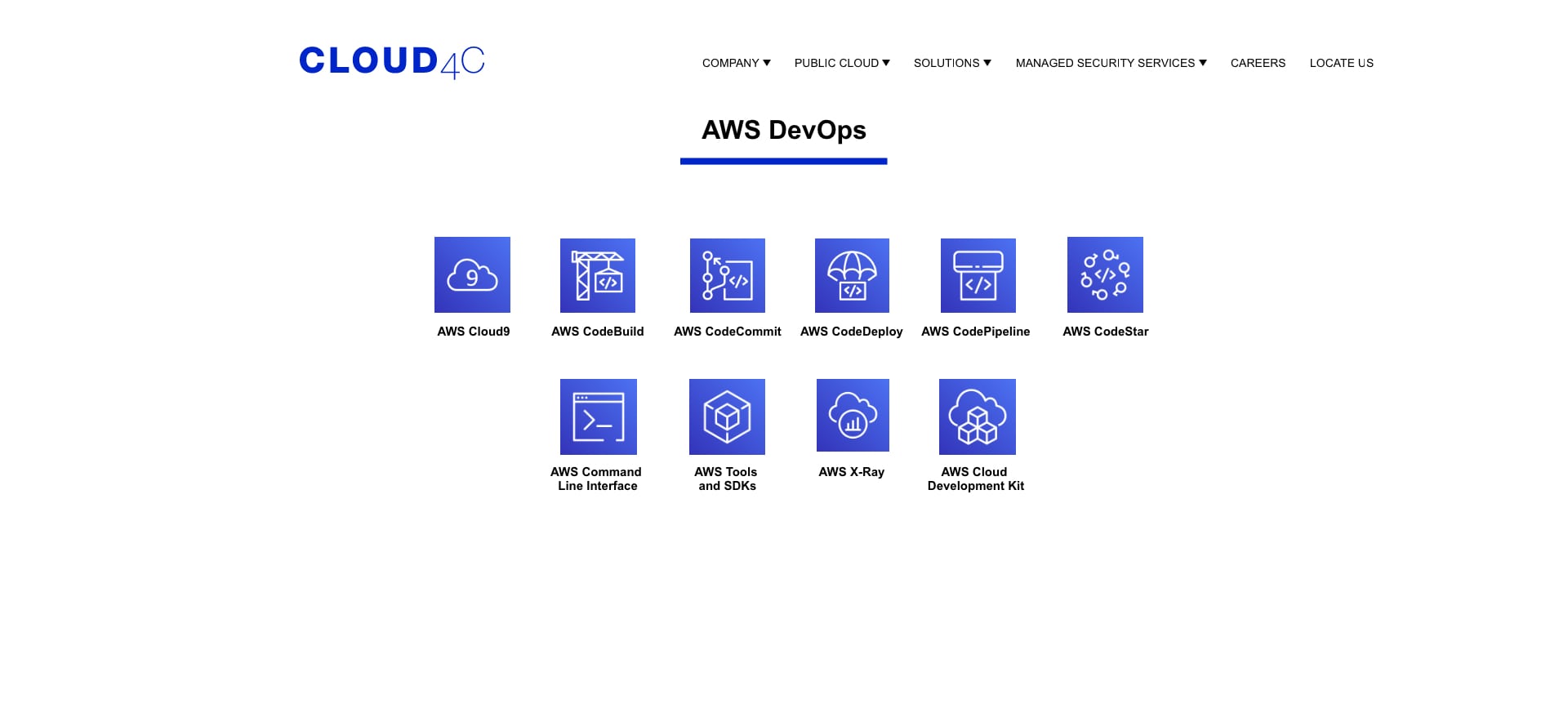 GCP DevOps Toolkit
X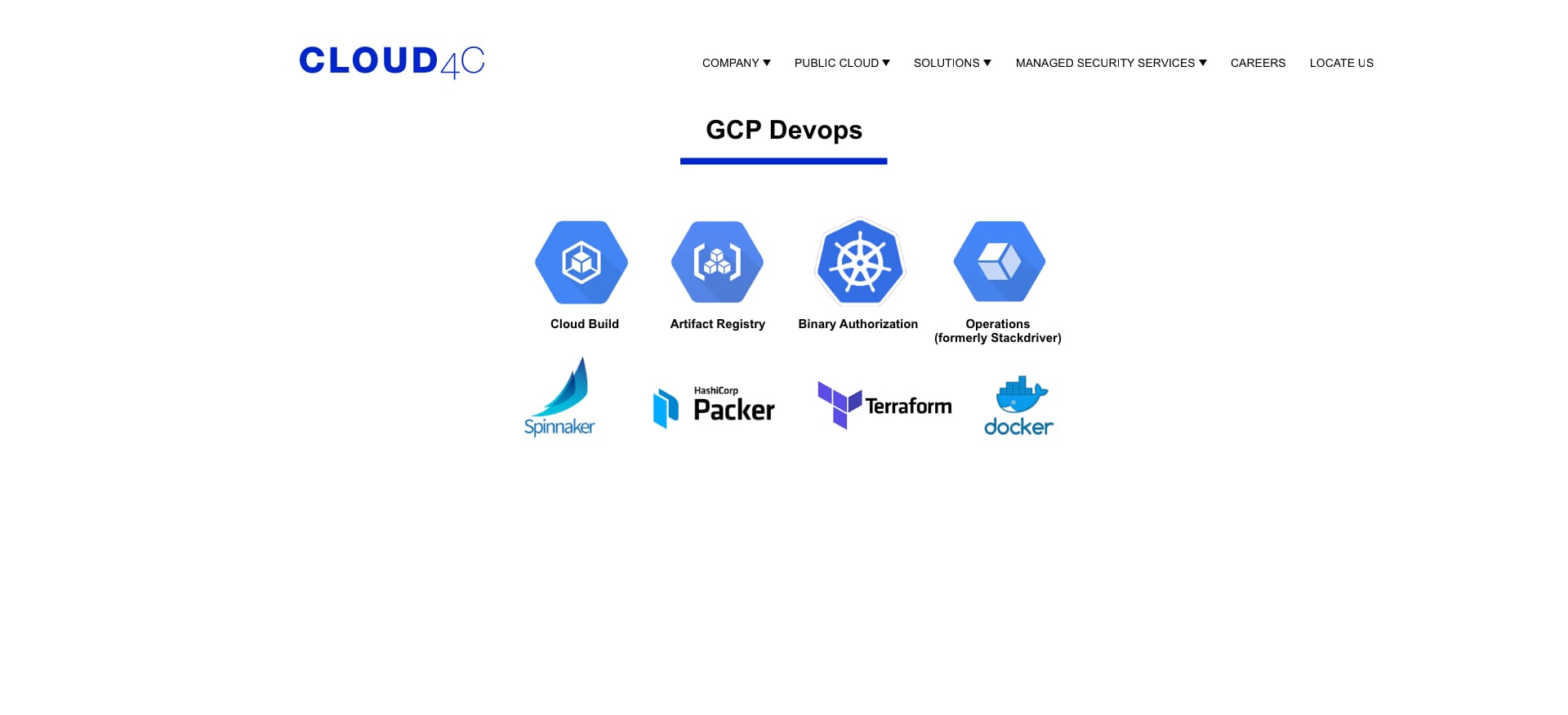 DevOps Toolchain
X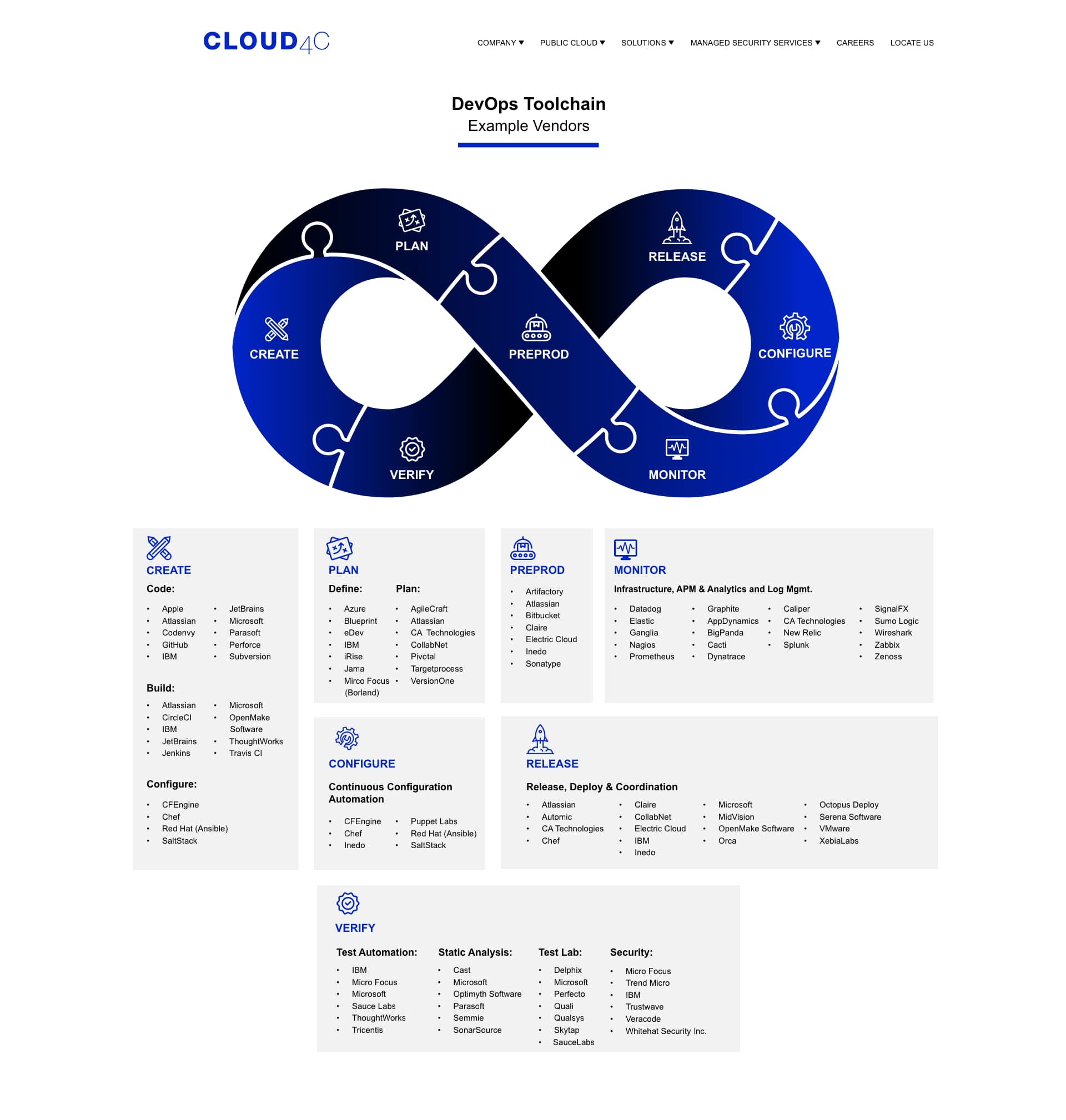 Azure Devops Toolkit
X