46% of consumers today prefer using digital channels for their banking (Source: PwC 2019 Digital Banking Survey).
In order to transform themselves into digital businesses, to make enterprise security and compliance more robust, reduce infrastructure footprint and introduce automation to deliver improved efficiency and cost savings, CXOs at financial institutions believe that Cloud would be the foundational element.
Download Cloud4C Banking brochure to know more
Words That Influence Our Extra Mile Of Effort
As a Banking and Financial Services company, security of data is a key concern. Cloud4C, with its robust security controls, managed security services and fail-proof processes, ensured that our applications and infrastructure are well protected.
Zuzar Tinwalla
CIO , Standard Chartered Bank
Cloud4C: A True Pioneer In Cloud Banking
78

BANK CUSTOMERS

5 in Top 20

GLOBAL BANKS

12 in Top 25

BANKS IN INDIA
Cloud4C helps banks of all sizes deliver innovative cloud-based solutions to accelerate their digital transformation journey and leverage cutting-edge technology to become more agile, strategic and customer-focused.
Connect with a Banking Cloud Expert
With our global solutions, banks strengthen long-term customer relationships, manage risk and compliance, improve decision-making at all levels, improve efficiency, and encourage innovation throughout the organisation. Cloud4C not only shortens the go-to-market times but empowers banks to stay in complete control through dynamic shifts in regulatory, business, and customer requirements.
Don't just be Cloud-ready. Be Future-ready.
At Cloud4C, we don't predict the future. We create it.
Banking customers are no longer staying loyal to their financial institutions. They are willing to shift to banks that cater to their ever-changing needs. The future is going to be about delivering personalised and intelligent services that keep up with their own technology adoption trends.
Our Banking Cloud solutions are designed to help banks at various stages in their life journey to adopt technological solutions that will significantly boost their capabilities to meet customer expectations while managing increasingly complex regulatory and compliance requirements.
START YOUR BANK'S JOURNEY TO THE CLOUD
Each organization is unique, so will have its own digital transformation journey. It is crucial to understand the current capabilities and then map them to our desired goals through the best possible ways.
Cloud4C has extensive experience in designing and delivering customized comprehensive banking solutions across diverse geographies and markets. Our proven Cloud Adoption Framework has been developed based on ground realities that will give you an accurate understanding of where you stand and how best your organization can achieve the digital transformation goals.
THE RIGHT USE CASE FOR YOUR BANK'S JOURNEY TO THE CLOUD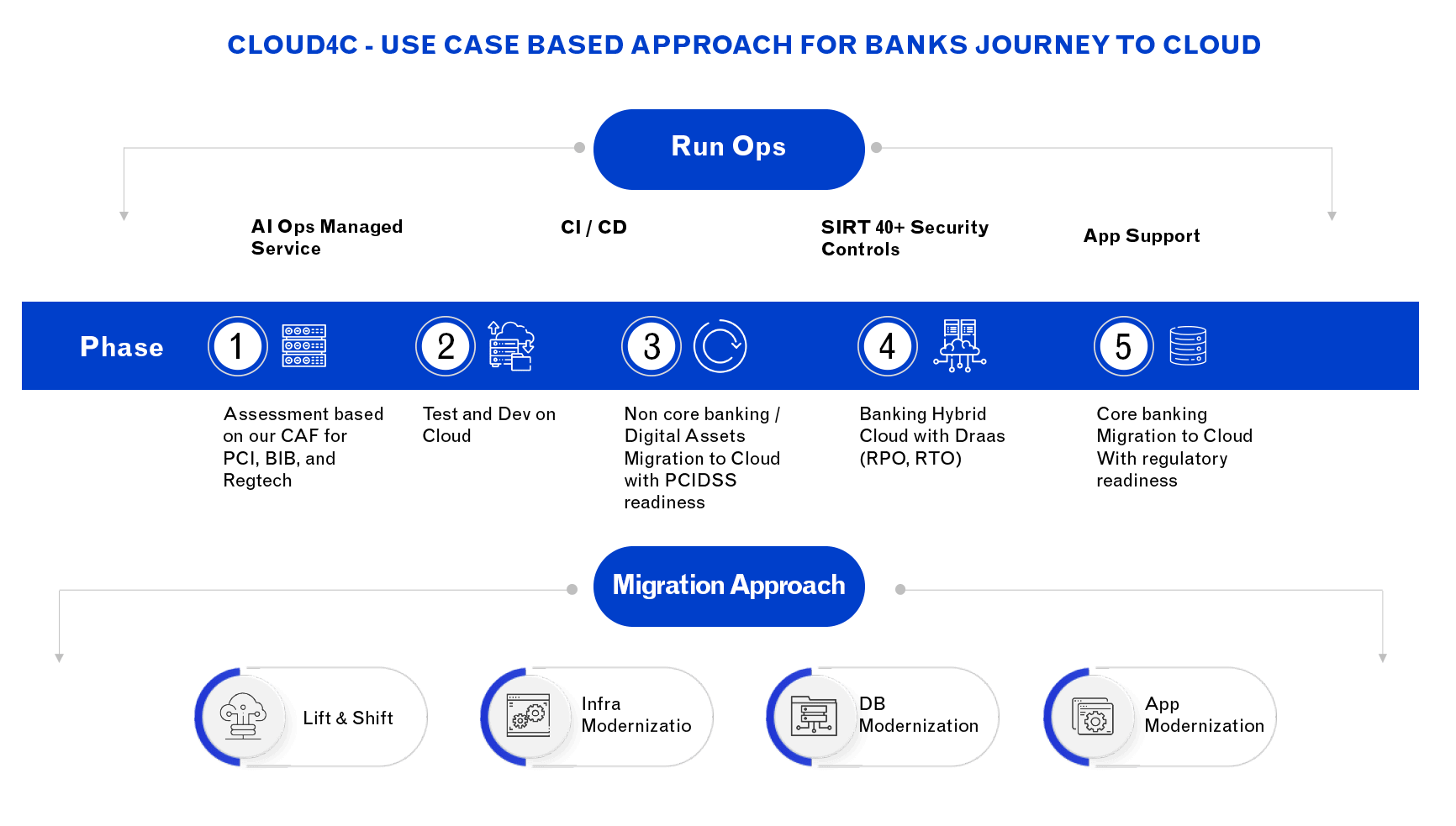 RESOURCES/ WHITEPAPERS
Customer experience has finally been acknowledged to be the main differentiator among banks. And the only way to meet these expectations and delight your customer is by digitizing the customer service journey.
But for it to be efficient, offering front-end or disparate solutions can actually cause more harm than good. Being prepared for surprises (e.g., service outages in ATM services, Fund transfer, EOD, BOD processes etc.) can be disastrous without an automated and intelligent approach that requires minimal manual intervention.
END-TO-END CLOUD SOLUTIONS FOR BANKS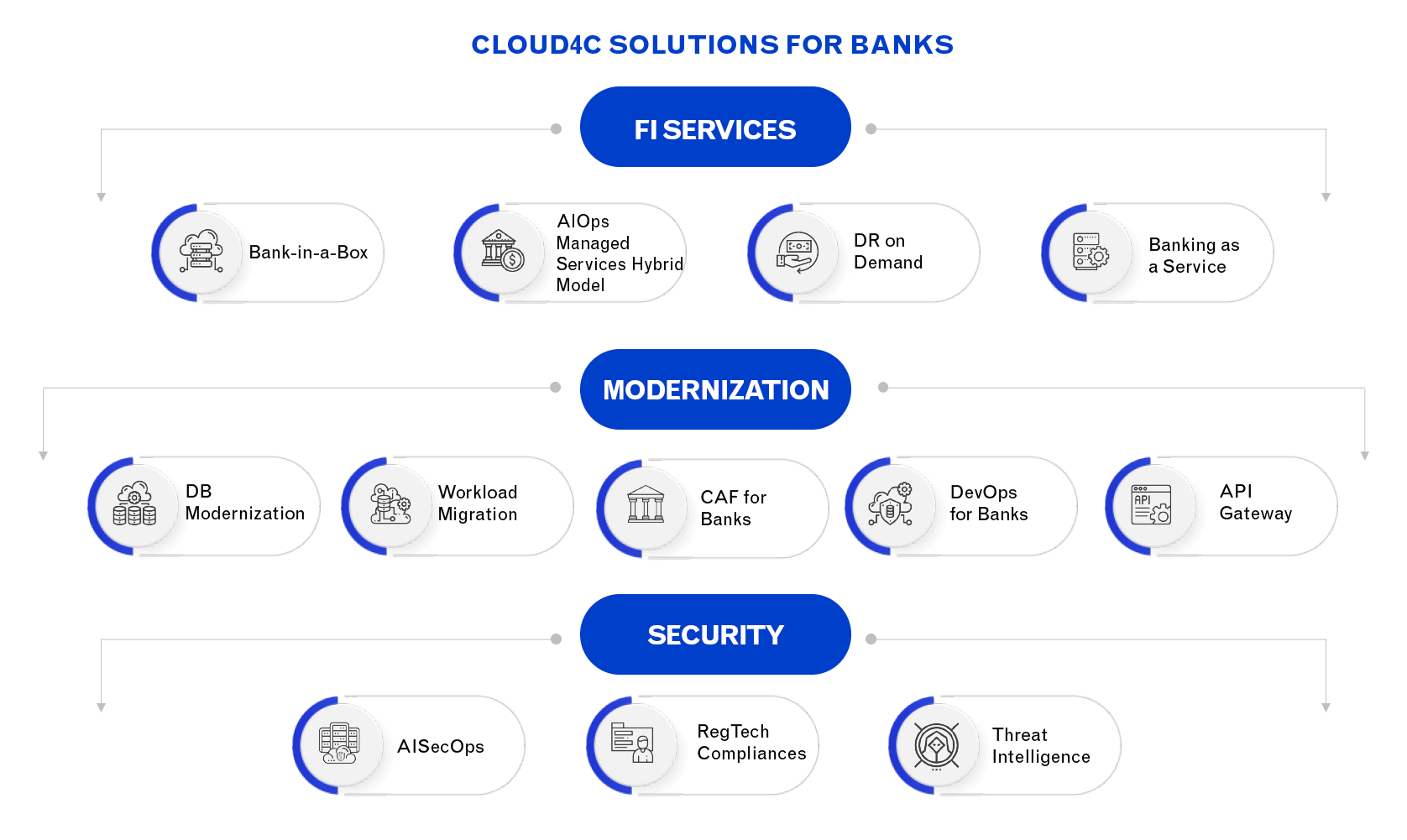 Modernization
Database Modernization
Leading enterprises are doubling their data footprints many a time each year. They are looking to simultaneously reduce costs, take advantages of newer forms of big data, and enjoy greater flexibility in analyzing data, with powerful AI and ML algorithms. And all of these is possible by modernizing data, i.e. moving data from legacy databases to modern cloud-based databases.
Expertise and Experience on Public Cloud platforms
Cloud4C Migration factory enabling Data migration
Military grade data security for data
Zero downtime migration methodology
Complex and Large-scale migrations
Three-pronged migration approach ensuring Data integrity
Know more about Cloud4C Database Modernization here
Workload Migration
Workload migration transforms the enterprises' complete IT landscape. Migration to the cloud has to be carefully planned, designed and executed at each stage to successfully move to the new IT infrastructure. Our global experts will help you successfully transition for greater efficiency in the following areas:
Infrastructure
Data and application
Cyber security
Know more about Explore Cloud4C Workload Migration solutions here
Cloud Adoption Framework for Banks
Cloud4C offers advanced assessment services to ensure that your path to cloud transformation is as seamless, quick, and cost-effective as possible. Starting from your Infrastructure as-is analysis report to security and compliance to business continuity and Business process gap analysis and mitigation plan, our team of experts ensure the optimum solution for you at every step.
Our CAF for banks comes with a unique service dependency-based assessment which is designed on the interaction of various banking applications built on Cloud4C's reference architecture for banking. It eliminates issues around increased latency and performance, post-migration to the cloud.
In addition to this, any other dependent applications that operate in a low latency environment are isolated in order to avoid performance issues giving you the industry-leading migration strategy and architecture.
Know more about Cloud4C NexGen approach to Cloud Adoption here
Cloud4C DevOps for Banks
Banks need to migrate to a DevOps deployment model to bring in agility and faster go to market. Cloud4C DevOps helps banks in accelerating the release process by automating testing and releasing new versions of the application code on the fly.
DevOps setup and management
Test automation
Code migrations
Product promotions
Vulnerability assessments
Production operations
Security operations
Know more about Cloud4C DevOps for Banks here
API Gateway
FIs around the world have great potential in open banking APIs. We create an approved gateway that will enable interaction between your banking application and external third party applications within industry record time. APIs that most appeal to FinTechs are the ones that are easy to use and tailor-made.
The use of open APIs enable third-party developers to build applications and services around your bank. This offers the latest in global technological advantages to customers who would also benefit from the greater financial technology transparency options. You can transform your bank into a digitally-integrated, customer-focused, and agile financial services providers.
In addition to this, any other dependent applications that operate in a low latency environment are isolated in order to avoid performance issues giving you the industry-leading migration strategy and architecture.
Know more about Cloud4C API Gateway solutions here
Security
AISecOps
Traditional SOC environments are no longer capable of responding effectively to the changing landscapes. The attacks are getting more sophisticated, the over-reliance on manual operations, rising costs of IT and security are all major problems that require a comprehensive, battle-tested solution for your institution.
Modern Big Data technologies help to address the extreme scalability demands of cloud-based applications and services for hundreds of millions of users. Many IT managers are already using Big Data monitoring platforms for aggregating, analyzing and storing the massive volume, high velocity and wide variety of telemetry data generated by cloud-scale infrastructure.
Cloud4C's AISecOps leverages existing infrastructure to deliver advanced solutions that offer robust threat intelligence, quicker turnarounds, automated hunting, and even easy scalability. The technology leverages the latest in AI/ ML developments to facilitate continuous learning that will safeguard your infrastructure from the ever-evolving threats, even in the future.
Know more about Cloud4C AISecOps here
RegTech Compliances
Banking is one of the most regulated sectors in the world due to the criticality of the information and the services being provided. That is why there are so many regulations and compliances that banks have to follow at every step for their own safety as well. Some of the major areas of regulation for banking include Identity and Access management, threat management, audit and compliance, vulnerability management, fraud risk management, and even analytics.
Cloud4C adheres to global compliances for banks through industry-specific, country-specific, and worldwide regulatory requirements. Our comprehensive RegTech solutions have global experts in designing solutions for transparency, privacy, and also follow security best practices.
Explore Cloud4C RegTech compliances here
Threat Intelligence
THREAT INTELLIGENCE. END TO END. SECOND BY SECOND.
You take care of your business goals while we handle your multi-cloud managed security services. Cloud4C offers end-to-end solutions, which cover continuous monitoring of your applications, recording any incidents and mitigating them to ensure that there are no outages.
Know more about Cloud4C Threat Intelligence here