What is AIOps?
As more businesses embrace hybrid cloud environments and adopt leading-edge technologies, IT Operations become complex and data voluminous. IT infrastructure and operations must keep up with this pace to accelerate digital transformation and avoid costly service disruptions. In addition, organizations must innovate and find ways to free up skilled personnel for strategic projects rather than focusing on mundane tasks.
Artificial Intelligence for IT Operations or AIOps, in short, is a practice that combines big data, analytics and machine learning capabilities to automate IT operations. The ultimate goal of AIOps is to help IT operations teams predict, find, and fix issues faster, gain actionable insights, increase response time, and make informed decisions to improve business outcomes.
98% of organizations agreed that a single hour of downtime costs more than $100K
"AIOps combines big data and machine learning to automate IT operations processes,
including event correlation, anomaly detection and causality determination."
~ Gartner
At its core, AIOps helps to collect, ingests, and analyzes data from multiple IT op tools to perform the following tasks:
Key Capabilities
of AIOps
Transform
traditional analytics capabilities
Spot and react
to issues in real-time automatically
Alert
potential issues beforehand proactively
Why do you
need AIOps?
Control over complexity
As embracing hybrid and multi-cloud has become an executive mandate, managing IT operations and leveraging operational data for actionable conclusions becomes a challenging job day after day. While complexity grows exponentially, continuous service assurance, especially in large enterprises that generate millions of operational events daily, becomes a task beyond human capability.
AIOps is the digital evolution for IT Operations teams at enterprises to reduce manual efforts, streamline operations, identify and remediate incidents affecting the performance of vital functions, reduce MTTR (mean time to recover), and contribute to more strategic innovation in the business.
Cloud4C AIOps platform utilizes big data, machine learning and other advanced analytics technologies to, directly and indirectly, enhance IT operations (monitoring, automation and service desk) functions with proactive, personal and dynamic insights.
Business Value
Continuous Insights
Continuous Insights
Continuous Insights
Monitoring
Services Desk
Automation
AIOPS
PLATFORM
Machine Learning
+
Big Data
How does artificial intelligence

enhance IT operations?
To understand how AIOps works, we first need to look at the roles each of the core technologies of AIOps plays in the process. First, AIOps leverages big data platforms to gather siloed IT op data of various types (historical performance and event, system log and metrics, network data, packet data, real-time streaming data, ticketing data, etc.) in one central database.
Next, it applies advanced analytics tools and machine learning algorithms to scrutinize IT operations data and distinguish abnormal events from 'noise' followed by zeroing on the root causes of abnormal events using specific algorithms and suggesting remedies. It also automates routing alerts to relevant IT teams or triggers automatic responses to solve potential problems in real time without human intervention.
Powered by machine learning, continuous learning is a key feature of this technology-driven process as the AIOps platforms constantly upgrade themselves to identify and alert abnormal events faster, offer more effective remedies, and better adapt to changes, e.g. any recent systems reconfiguration or infrastructure provisioning performed by DevOps resources.
Key use cases of artificial intelligence in operations management at a glance
Gartner identifies five key use cases or applications of AIOps, which are
Event correlation
and analysis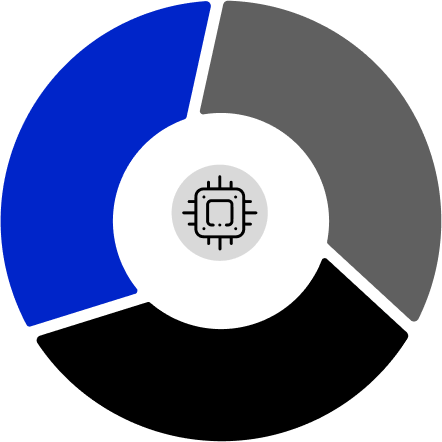 Monitoring
Service Desk
Automation
AIOPs
Machine Learning
& Big Data
Data Sources
Benefits of AIOps-driven service management
Cloud4C AIOps platform-driven managed services apply AI, machine learning and neural network techniques to monitor data from applications, cloud services, networks and infrastructure. It offers support in proactive, early detection of changing conditions in the environment so that IT operations management and DevOps teams can detect and resolve situations before those impact customers, partners, or employees.
Intelligent
Managed
Services
Powered
by AIOPS
Applications

SAP Basis, Oracle e-Biz, Banking and
FSI, Microsoft Sharepoint, Dynamics

Security

Tools: Azure Native + 3rd Party (SIEM, PIM,
DAM, HBSS, VA, PT, Encryptions) Falcon,
SecCon, AppArmor, Anchore engine

Backup & Replication

Azure - Backup, Commvault Replication - ASR,
Cloudendure, Veeam, Native DB replication

Compliances

PCIDSS, NESA, SAMA, GDPR,
FedRamp, MSA, RAP

CloudOps

Azure Cloud Platform Management, IaaS as Code,
Performance Optimization, Automation & Monitoring
and Service Management & Governance

SysOps

Virtual Instances - OS (Windows, Linux) Containers -
Dockers & Kubernetes on VM, Azure Kubernetes Services
and Azure Native Services, Big Data Platform Storage

Database Management

Azure PaaS (MS SQL, MariaDB, MySQL,
PostgreSQL), DB on VM (MS SQL, MySQL, MariaDB,
PostgreSQL, SAP HANA, SAP ASE, MaxDB

Network

Azure Cloud Native - Firewall, Load Balancer, VPN
Gateway, Express Route, OEM Appliances - Fortinet,
Cisco, F5, A10, Barracudda

DevOps / Automation

Terraform, CHEF, Ansible,
Puppet, SAP LaMa
Cloud4C offers a critical layer of intelligence and integration between performance monitoring and IT Service Management (ITSM) systems to reduce unnecessary operational actions. AIOps also facilitates a collaborative workspace to resolve situations and capture the remediation knowledge for the probable root cause of similar situations. In short, Cloud4C AIOps provides rapid mean time to detect (MTTD) and mean time to resolve (MTTR) incidents.
Cloud4C AIOps brings IT Ops and DevOps teams a deeper understanding and control of critical IT architecture, services and business applications. Operators get a rich set of tools for proactive notification and recommended probable root cause to avoid business service interruptions.
What are the key benefits of

implementing AIOps with Cloud4C?
More efficient IT
Reduced event noise and alerts, helping operators focus on crucial matters.
Better agility
More proactive operations teams and faster issue resolution even before end users can identify and raise a ticket.
Complete visibility
Offers full visibility and easy management of every operation from a single interface.
Root cause analysis
Identifies possible root causes of every issue and helps teams quickly fix it by providing real-time guidance.
Instant collaboration
Routes intelligent alerts to the relevant teams and profiles, helping teams to collaborate and correct issues faster.
What are the business benefits


of Cloud4C AIOps?
Lower complexity and cost
Reduces alerts by up to 99% and cuts incident ticket volume by up to 60%
Continuous assurance
Handles millions of events per day to automate analytics and provide accurate remediation insights that keep critical business services at peak levels
Improved Service-quality
Significant decrease in Mean Time To detection (MTTD), Mean Time to Acknowledge (MTTA), and Mean Time To Resolution (MTTR) for enhanced customer experience and more productivity
Continuous software delivery
Automates workflows with out-of-the-box integrations and open APIs to incident management, runbook automation and continuous software-delivery systems for improved responsiveness and scale
Gain a Competitive Edge
with Cloud4C AIOps
Having managed 40,000 VMs for over 3,500+ enterprises worldwide for the past decade, Cloud4C developed their AIOps Center of Excellence (CoE), enabling the following for enterprises.
By 99%
event noise reduction
By 60%
reduction in root cause
identification time (MTTD)
By 60% incidents
reduction through
predictive analytics and
alerts
By 75% reduction in
MTTR through auto
event remediation
How do we

approach AIOps?
Automation
Machine Learning
Visualisation
Correlation
Auto Discovery
Data Sources
Memory Size
DB size
Infra Logos
Application Logs
Network Data
Artificial Intelligence AIOps
Dashboards
Alerts
Actions
Training Labels
How do you enhance cybersecurity and stay compliant with Cloud4C AIOps Services?
Data sovereignty compliance is a mandate for many companies and government organizations considering a move to the cloud. Cloud4C, with the help of AIOps capability, is committed to meeting the demands of customers facing stricter laws concerning data processing and storage.
Why choose Cloud4C as your AIOps and

Managed IT Services Partner?
24/7 End-to-End intelligent managed services powered by AI
Single SLA for application and database layers
25 dedicated Centers of Excellence (CoEs) for multi-cloud platforms and applications
ISO-certified ITIL/COBIT driven process approach
26+ Security tools with 40+ security controls for seamless productivity
Country and Industry-specific compliance across the world
Get started with your AIOps journey with Cloud4C.
Talk to our experts