Consolidating a Distributed Universe:

Why Ditching the Public Internet for Direct Cloud Access makes sense for Enterprises?

Suppose you were time-bound to reach a destination. However, the street connecting your starting point to the end location is mostly crowded, occasionally thronged with traffic jams. Being the main route, you would still be obliged to follow the same. Flip the situation a tad and consider you own a fleet of vehicles that need to pass through that street, bounded by the same time limit. Doesn't seem to be a pleasing option now, right? You must hunt for an alternate route. Actually, it would be perfect luck if the street remains vacant just when your vehicles happen to pass by!

The first scenario represents what firms operating on multiple cloud ecosystems, third-party vendor platforms, on-prem environments, and partner landscapes unfortunately hope to achieve in networking terms via the public internet. Add to that, modern consumers need ultra-low latency, super-fast connectivity everywhere, every-time, demanding businesses to increasingly move their digital infrastructure towards the edge, closer to end users.
Security and Compliance Management remains the No.1 driver for enterprise adoption of cloud connect services
Hence the traditional, shared public networking approach is unscalable, unsecure, and fails to achieve the colossal high-performance networking demands of the modern agile enterprise ecosystem distributed across thousands of business locations, edge locations, and finally customer/end user.
What firms truly need is the alternate solution and that's where the true promise of direct cloud access networks or private cloud connections come into play. Again, that's exactly why this modern networking standard has swelled into a global rage!
Let's dive in.
Cloud4C Cloud Connect: Software-defined Intelligent Private Connectivity for Any Cloud, Any Ecosystem, across Any Location
As the world's leading automation-driven, application-focused cloud managed services provider, Cloud4C emphasizes in putting enterprises at the driver's seat when it comes to cloud adoption. That includes the delivery of cutting-edge digital infra at scale seamlessly across multiple ecosystems and locations with ease and agility. Cloud4C Cloud Connect, a true extension of that ambition, helps businesses design and implement private dedicated networks to multiple cloud ecosystems and SaaS platforms, on-prem environments through a few clicks, deployable via an intuitive universal interface.
Traditional Cloud Connects are implemented via costly physical PoPs (Points of Presence) that are difficult to scale and a struggle to administer via in-house networking experts. Cloud4C, in association with its global technology partner, allows for deployment of cloud connects via virtual PoPs at near-zero Capex and pay per usage model.
The power of software-defined connectivity allows spinning up virtual network points up and down on-demand, monitor networking performance in real-time, upscale and downscale allocated bandwidths, and smartly automate networking workflows. Even better, Cloud4C extends end-to-end network and cloud managed services with state-of-the-art security on top, providing enterprises a comprehensive multi-cloud and cloud-ecosystem networking services.
Just to be Clear:

How Diverse could Cloud4C Cloud Connect Be?

With Cloud4C Multi Cloud Connect and Cloud to Cloud Services, architect High-Performing,
On-demand Private Networks to Any Ecosystem, Anywhere

Global Hyperscalers or Public Cloud Platforms

As-a-Service Providers and Third-party Service Providers

Private, Hybrid Cloud Landscapes

Edge networks and endpoint environments
Intelligently
Managed
Virtualized and
Software Defined
Inherently
Secure
Maximum
Availability
Explore the Unprecedented Impact of

Cloud Connect Services

Design High-performance Hybrid, Multi-cloud Architecture with Zero Disruption Direct Access
On-demand Dedicated Global Connectivity, Seamless Expansions
On-demand Dedicated Global Connectivity, Seamless Expansions
Foundations for Effective Multi-cloud Architectures
Automation-driven End-to-end Managed Services
Shorter Installation Timelines and Economical Establishments
Embedded Security and Reliability, Continual Monitoring
Better Governance and Control
With software-powered deployment and management of all private connections across cloud ecosystems, landscapes, as-a-service providers, extend digital infrastructure and services anywhere, globally. Spin up or stop vLANs as and when needed for cost-effective operations across locations. Seamlessly scale your networking requirements by clickable deployments of edge networks from the Cloud Connect platform.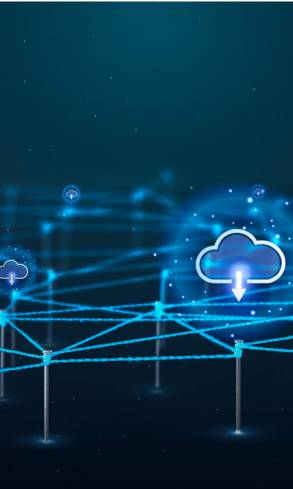 With Cloud4C Cloud Connect solutions and services, businesses can create streamlined, high-agility private connections to any hyperscaler cloud, private-hybrid cloud ecosystem, on-prem datacenters, edge locations, or third-party landscapes across geographies. This arms firms with the foundations for an effective multi-cloud networking anytime, anywhere. With networks sorted across multiple cloud ecosystems in all locations, businesses can safely move data and deliver services throughout its global footprint at ultra-low latency.
As the world's leading application-focused cloud managed services provider, Cloud4C specializes in delivering multi-cloud managed services at maximum availability and agility, from infra till application login layer under a single SLA. Key to such effective end-to-end service is hyperautomation and AIOps. With Cloud4C, not only connect your ecosystem directly to multiple clouds and IT landscape, but also gain expert assistance to full-stack management of the entire multi-cloud architecture.
Installing physical Points of Presence to establish dedicated connections to multiple clouds may take months and consume huge financial loads. On the flip side, creating a virtual Point of Presence through the Cloud Connect platform can be done within three simple steps: Choose virtual network provider, Deploy on a location of choice, and Connect to any Cloud Provider/Chosen Ecosystem. The entire operation takes hardly a few minutes and maximum few days or weeks for complicated objectives and client ecosystems.
Public internet is often slow, insecure, and ridden with potential threats. Exposing an enterprise ecosystem to the same could result in unprecedented data breaches and security catastrophes. Via Cloud Connect, firms establish a fully secure, reliable, dedicated access or connectivity to their cloud platforms or as-a-service solutions. With Cloud4C, embed additional security and threat management along with continual, automated network monitoring and self-healing maintenance.
With Cloud4C as a managed service partner, streamline your multi-cloud connectivity and networking management across geographies with stringent compliance and controls. Ensure disruption-free operations and frictionless delivery of content, dataflows, and services across all networks.
Connect to Cloud Ecosystems of Choice via Secure, Private Software-defined Networks. Begin your intelligent network modernization with Cloud4C
How Cloud4C Helps Design the Enterprise Networks of Tomorrow:

Cloud Connect Use Cases
Dedicated Connections to Multiple Clouds
Deploy and create private connections to multiple hyperscaler cloud platforms, With software-defined and automation capabilities, Cloud4C is able to deploy, scale, spin up and down virtual LANs on-demand from the same platform to achieve separate, dedicated connections to all cloud platforms necessary.
Enterprise Location
Customer
Port Size: 1Gbp8/10Gbps
Cloud4C On-Demand PoP
Cloud4C Base Infra
Bandwidth Granularity 50Mbps - 1- Gbps
Express Connect

Direct Connect

Express Route

Cloud Interconnect

Direct Link

Fast Connect

SAP Cloud Peering
Dedicated Connections for Hybrid Cloud Set-up
Seamlessly connect your existing private cloud or on-prem ecosystem to a public cloud of choice. Or, establish dedicated connections between your on-prem datacenters to a private cloud ecosystem and public clouds. Cloud Connect is the ideal solution to build the networking foundations for a hybrid or multiple hybrid cloud ecosystem.
Hybrid Cloud
Public cloud
Private cloud
Traditional Infrastructure
Connectivity Between Cloud Platforms or Cloud-to-Cloud
Modern IT ecosystems are spread across multiple clouds interlinked for specific operations. A firm might choose to host their online assets on a particular cloud and their core database on another platform. With Cloud Connect, establish secure private connections, dataflows, workload distributions between multiple cloud platforms to create an agile functioning IT system.
Network Edge vRouter
An application that spans multiple clouds
Scenario: a global company hoststheir website in Alibaba Cloud but their customer database is in AWS
Inter-regional Cloud Connectivity
Deploy private connections with multiple cloud solutions and as-a-service providers across multiple regions with ease. Ensure streamlined security, automated monitoring, and fail-proof governance.
London
Singapore
Sydney
London
Singapore
Sydney
More than Private Connectivity:

Cloud4C ups the ante with Fully Managed Services
AIOps-powered Managed Operations
Once networks are deployed, leave management end-to-end with Cloud4C. Our smart cloud networking specialists ensure that networks are always up and running, delivering high performances and accessing proper bandwidths based on traffic scales
Network Modernization Services
Modernize networks with Cloud4C. Move away from the traditional physical networking infra models to virtualized networking functions, software-defined networks, etc. Utilize a universal portal to choose and access leading networking hardware, deploy vPoPs across any location of choice, and connect to any cloud or solution provider
Network Security and Health Monitoring
Use automated APIs, Software Defined health check-up tools, cloud-native network and telemetry solutions for end-to-end network monitoring and health checkups. Install firewalls, proper access protocols, admin rules to ensure that all deployed networks are safely running, always.
Intelligent Networking and Automation
The dawn of intelligent networking is here. With software-defined multi-cloud networking and virtualization, leverage automatic load balancing, network traffic steering, smart packet loss reversals, intelligent routing and switching functionalities, etc. Leverage the experience of modernized, smart networks with automated administration, monitoring tools.
Hybrid and Multi-cloud Management
Manage your hybrid and multi-cloud landscapes connected via the Cloud Connect services with Cloud4C. Architect, customize the cloud architectures to best represent your changing market demands. Scale up the architecture technologically as well as geographically based on organizational objectives. Use automated tools for seamless monitoring and governance
Compliance, Governance, Disaster Recovery Management
Compliance management remains a significant concern while planning to expand overseas or scale services across geographies. Cloud4C's full stack ensures complete continuity of the multi-cloud connected networks and the enterprise ecosystem it holds for complete compliance and continuity. Leverage auto data backups, stringent RTO/RPO based recoveries, dedicated audits for fail-proof governance.
Implement Cloud Connect Services to design a fail-proof Cloud Ecosystem. Talk to Cloud4C's Networking Specialists Today
Cloud Connect

- FAQs
Why do we opt for private, dedicated connectivity to cloud platforms rather than accessing the public internet?

-

As the public internet world gets more and more crowded and consumers thrive for super-fast connectivity of high-quality data streams, businesses need to look towards faster, direct access modes to multiple cloud and software service ecosystems for agile functioning and fast delivery of services anywhere, at edge locations.

Through private connections to all required cloud platforms and as-a-service vendors that make up a business' IT ecosystem, firms are also bypassing the hugely insecure public internet mode to manage their cloud architectures and deliver services.

What is meant by Software-defined Networking and Why is it useful?

-

Earlier networks were deployed using chunky, expensive hardware that had to be manually configured; hence the entire cost of the networking infra had to be borne by the enterprise. With Software-defined Network platforms, firms can abstract their network management from the underlying networking infra.

That means, businesses can choose any networking hardware or deploy a network server/router virtually from Cloud Connect portals (Choosing any network system of choice on-demand and paid as used) and seamlessly manage the network performance, tuning from a universal interface at-front. The software-defined network architectures also allow intelligent traffic management, smart routing, and loss retrieval principles that help maximize information retrievals from the underlying deployed networking systems and ensure maximum performance through in and throughout.

Are having private connections via Cloud Connect and having a multi-private cloud architecture same?

-

Businesses traditionally connect to their cloud platform accounts or as-a-service accounts through the public internet.

However, for best security and super-speed performance, businesses can opt to create direct, private connections to their cloud accounts via virtual PoPs (Essentially network systems/servers from any provider that can be rented and deployed to a location of a choice from a universal platform); this is called the Cloud Connect Service model. Private cloud on the other hand, is a dedicated cloud platform or cloud solution for a single enterprise that's hosted on an on-prem or partner datacenter.
Design hyper-scalable, agile software-defined private networks across multiple cloud platforms with Cloud4C
Talk to us