Slowly, but surely, enterprises are becoming more proficient in using cloud technology – 68% now consider themselves "intermediate" or "advanced".
(Source: Flexera)
To develop true digital transformation for enterprises migration plays a vital role, we at Cloud4C ensure you get more than lift and shift by empowering Application, Database Modernization and Reduce Costs not just at infra level but also from a perspective of overall IT spend through the four pillars-Continuity, Compliance, Customization and Control with an intent to reduce TCO.
Cloud4C, with 10+ years' experience in migrating critical workloads to cloud of enterprises choice backed by 23 different Centers of Excellence (CoEs) across multiple technologies, can help enterprises to migrate any workloads, apps, platforms, databases to Azure (which can also include hybrid cloud options with certain workloads locally hosted to address the data localization needs of our customers).
Why Migrate Your Data Center To Azure?
Optimise Costs
Move from a CapEx to OpEx model
Modernize your Data center
Eliminate burgeoning DC Operational costs
Compliance and Security
Modernize security of your workloads and combat threats
Compliance to stringent local and industry specific regulations
Business Continuity Plan
Business Agility is a must
Instantly adds new capabilities with respect to tools, skillset, thus freeing up the IT team from managing repetitive tasks.
Accelerate time to value - build, deploy, manage
Azure Data Center Migration Drives Longer Term Opportunities
Time to take your first step in your journey to Cloud by Azure Migration. Use a proven cloud migration plan, tools and guidance to make the most of your new environment. Cloud4C not only helps you with Azure Migration but also offers AIOps powered managed services around Security, Monitoring, Billing, Consumption Analytics and Cost optimization that can drive an enterprise's growth and add value to end-customers.
Take advantage of the Cloud4C expertise and start your migration now!
Migrate Move workloads to cloud
Optimize Infra as a code(IaaC), VM "snoozing", Sizing, laas to Paas
App Modernization Refactor, Rearchitect and Rebuild
Innovate Next Generation workloads embracing AI/ML, Database Modernization, AIOps driven Managed services
There are six main points to consider when planning your enterprise's Azure migration and Cloud4C would help you in every step of this journey.
The data center migration model an application should adopt
Assessment of the current state and plan for the future state
Roadmap to accomplish the migration
Storage configuration options
Security and availability requirements and solutions for the same
Migrating and maintaining your Azure deployment
Cloud Migration Advisory and Best practices
Our Cloud Architects and Security Consultants will work with an enterprise team to design highly available, scalable, secure and cost optimized design for their workloads (infra, application, data and workplace). With scalability, sustainability, security, reproducibility and ROI sensitivity as primary focus, Cloud4C helps enterprises design the right cloud strategy and implement it. Powered by Azure CAF, Azure native tools such as Azure Migrate, ASR Deployment planner, Cloud4C is adept in Cloud Migrations as well as Hybrid and Multi Cloud Operations.
Cloud Infra Setup and Management – Secure and Automated infra setup is our strength. On-click infra set up and tear down, automated on demand new environment creation are facilitated by Cloud4C Unified Cloud Management Portal backed by Third party tools and Azure native tools such as and Azure Resource Manager(ARM). As part of the IT Modernization exercise, we offers the following services with a team of more than 600 certified Azure experts at Cloud4C and Microsoft Azure teams across the world.
Workload Migration to Azure
Cross region migration for compliance or higher throughput, bare metal to Cloud or Cloud to Bare Metal - we have done it all. We can help devise the best migration strategy and implement it with zero down time, zero risks, zero errors and minimum effort.
Application Migration Models
Cloud4C Application Migration and Modernization helps enterprises in maintaining, extending, deploying and managing their applications so that they meet the current and future business needs. This depends on your situation which will be driven by factors such as strategic business initiatives, application architecture, time, cost and available skills
RE-HOST
Here we move the application to another physical, virtual or cloud infrastructure without any alteration, all while keeping the business logic intact, and ensuring there is no change in the system.
RE-PLACE
A legacy app that has some functionality which is still useful can sometimes be replaced with a more flexible cloud-based solution. The consumption of these services changes from a purchased license to a pay-as-you-go subscription.
RE-PLATFORM
We move the legacy applications to the cloud with minute changes, ensuring code structure, features, and functions are unaltered. For Software-as-a-Service apps, it is based on a twelve-factor framework, a defined methodology for developing and deploying web applications.
RE-ARCHITECT
It's about moving to new application architecture where you can utilize all the modern programming as well as microservices, a win-win situation. In this legacy modernization technique, the overall code is changed, allowing you to move to a new architecture where you enable the infinite features of the application platform.
RE-BUILD
In encapsulation, the monolithic application is broken, encapsulate data and functions in the application and rebuild those individual components into micro services application through a new application programming interface. This will help your enterprise to leverage and extend the application's features and value to change with the changing needs of the business.
Assessment and Planning the Azure Migration with CAF
The Cloud Adoption Framework powered by Azure offers enterprises a reliable methodology to create and implement the business and technology strategies necessary for an organization to succeed in the cloud. For enterprises still in the process of choosing a cloud platform, Cloud4C will help guide key decisions throughout the various stages of enabling cloud adoption, establishing operations on cloud and managing their mission-critical workloads on cloud.
Learn more on Cloud Adoption Framework based Migration to Azure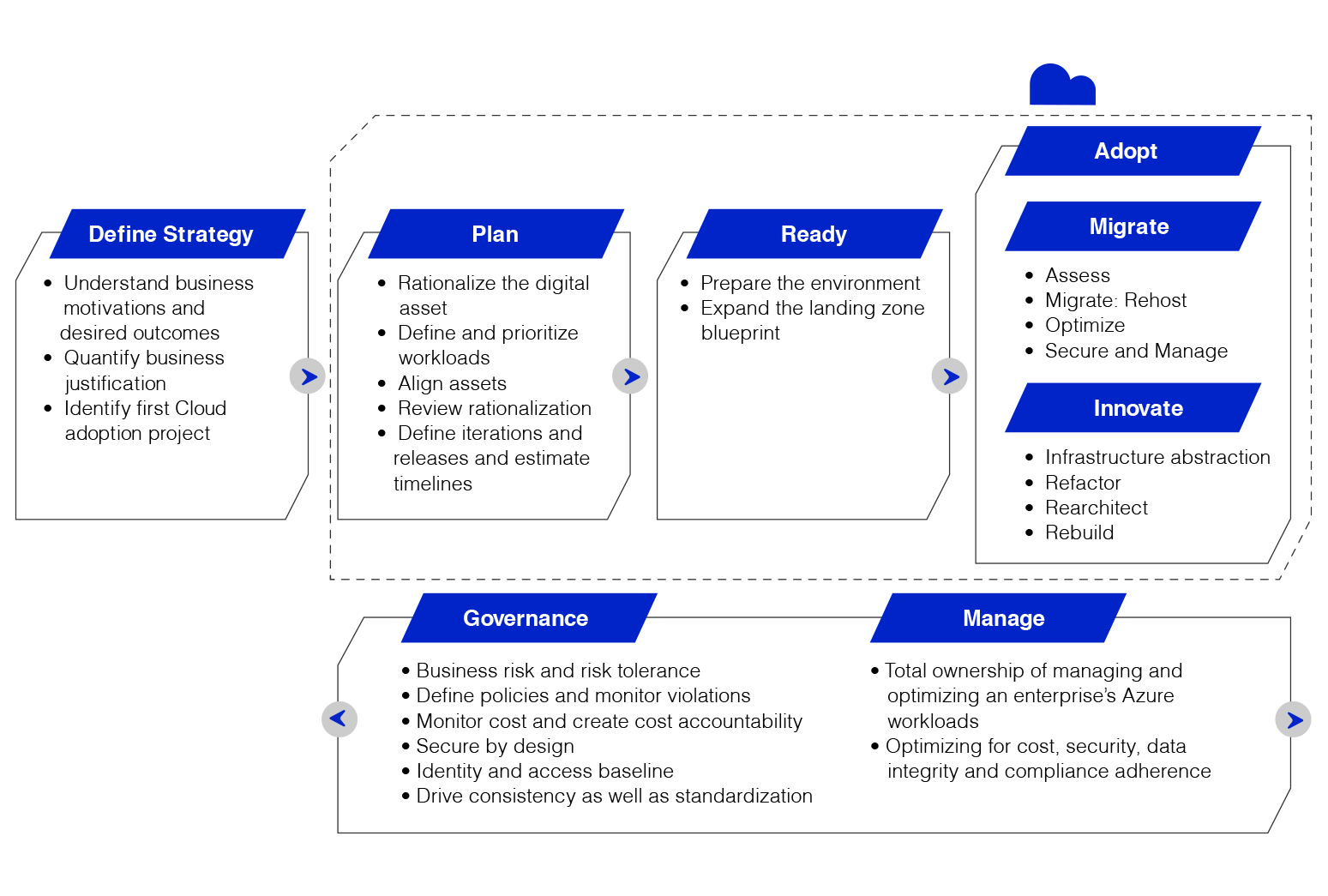 CAF Based Workload Assessment & Migration Blueprint
Aligned with Azure best practices, Cloud Adoption Frameworks (CAF) from Cloud4C help to prepare a customised and detailed infrastructure, application and data migration assessment report. Cloud4C Migration factories use the highly efficient assembly line approach with clearly defined steps to make the migration and transformation safe, secure and needless to say fail-proof.
Some of the key steps we take care during this phase:
Assessment Report
Migration Strategy, Approach & Timelines
Security Tools Mapping
Gap Mitigation Plan
Azure Estimates
Migration Estimates
Azure Landing Zone Readiness & Migration of Workload (Lift and Shift)
Accomplishing the Data Center Migration to Azure
An enterprise's objective of Azure Migration should result in a lower TCO and improved performance. Cloud4C helps enterprises take advantage of tools such as Azure VM Sizing, Map toolkit, Azure Migrate to provide recommendations on the target Azure VM size based on the assessment exercise.
Cloud4C also leverages tools such as Azure Site Recovery (ASR) to enable customers to continuously replicate virtual or physical servers to Azure, and then migrate using a simple failover process. It also offers a test failover approach, which can be used to test functionality of applications before the actual Azure deployment. There are several factors that govern a Disaster Recovery as a Service strategy - RTO and RPO goals, storage, capacity planer network reconfiguration, and daily change rate. Along with Cloud4C proprietary tools, we also use Azure Site Recovery Capacity Planner and Azure Site Recovery Deployment Planner to analyze an environment and compute requirements for the target environment.
Customer Success Stories
Over the past few years, we travelled together with many of the leading enterprises across the world in their cloud transformation journey. We allayed their fears, helped them adopt cloud, optimize their cloud investments and achieve customer excellence as a result.
Path-breaking Azure Solution Based on Cloud Adoption Framework Delivered for Nodal Ministry with Complex IT Environment
The Client
The client is a key ministry in the Government of one of the countries in Middle East, supporting 60 other entities, with complete ownership of maintenance of mission-critical shared services for network and IT infrastructure landscape. Shared services have been developed for use by government entities to increase efficiency, reduce effort, standardize procedures, and make the best use of ICT resources.
The Challenge
The client was apprehensive of cloud migration challenges given the criticality of shared services operations. Their ambitious digital transformation journey needed support and guidance at every step to build trust in cloud.
Azure Migration strategy had to take into account the scale, complexity and criticality of each of the Government Network (GN) and Shared Services (SS). Migration with zero disruption to business as usual required a phased approach.
The client was accountable for the sanctity and sovereignty of the IT environment for over 60 entities. As a custodian of sensitive data and mission-critical applications, supporting numerous end-user utilities and services, they needed foolproof security architecture.
The client had a highly heterogeneous on-premise landscape with complex networks, multiple databases and server platforms. The challenge was to design a similar build on Azure, ensuring ease of access, scalability, agility and high security.
The Solution
Cloud4C drafted a novel solution design in Azure migration to support the distinct requirements of the client. The path breaking solution design included greenfield deployment of 3 mission critical workloads along with migration of on-premise landscape. Cloud4C Expert Azure MSP teams delivered a unique three-layer architecture for a highly secure, scalable and available environment for client entities. The entire project was governed under a single SLA, with complete ownership and accountability. Our expertise and experience of over hundreds of cloud migration and ready frameworks ensured swift, fool proof and mature solution delivery.
Ally client's fears about Migration to Azure - Our team of certified experts, leveraged from 23 CoEs, with their vast experience in over hundreds of cloud migrations, took complete ownership of the project, governed by a single SLA down to app level.
Phased Migration, No Disruption - Client's 24/7 operation, mandated minimal downtime and disruption to business as usual. Our unique phased approach ensured necessary checks and balances and quality validations required for projects at such vast scale.
Unique & Customized - The client had a complex and vast landscape running on-premise, comprising of more than 20 databases, 6 NVAs, 2 next generation firewalls and over 100 VMs. The solution required massive customization and pushed the boundaries of the available Azure features. Our team designed a distinct solution architecture, recognized as a completely new approach by MS that included:
Hub and Spoke Architecture 
Out of Box Third Party Integration – Unique customizations to existing APIs; managed instance integration to re-architect the on-premise landscape on Azure.
Database modernization – The MS SQL, Oracle PostgreSQL and other databases maintained on-premise servers had to be modernized and managed as PaaS with MS Azure.
Multi-skill Expertise for Heterogeneous Environment
Customized Security Policies - Aligned to stringent government security guidelines. The security policies and certifications included ISO 270001, Azure Security Center (ASC), CIS and MIS. We deployed Sentinel on centralized workspace and integrated all Azure VMs without internet access using OMS gateway.
Backup Architecture
We delivered an independent, isolated and application-consistent backup architecture for reduced restoration time and quick return to running state. Both in-transit and at-rest data were encrypted. Azure backup was enabled for VMs hosted on Azure, SQL Server on Azure VM, and Azure File Share. Recovery Services vaults were used for short-term and long-term data retention, and alerts were set up with built-in monitoring and alerting capabilities. Geo-redundant storage (GRS) was deployed to replicate backup data for higher durability, in the event of any regional outage.
Business Impact delivered
Fully compliant, benchmark solution architecture for highly customised MS Azure Migration
AI based threat modelling for pre-emptive action, protecting IT landscape
99.95% application level uptime with round the clock SME level monitoring
Uninterrupted operation with 24*7 monitoring and SMEs on call
Reduction in TCO by 40%
Zero disruption complex Azure Migration under single SLA
Complex Migration at Scale based on Cloud Adoption Framework for Critical IT Landscape of Major Government Entity
The Client
Taking forward Qatar National Vision 2030, the client acts as the key nodal entity to develop the communications and information technology sector, through implementing and overseeing e-government programs; with the objective of building an active, dynamic and secure sector.
The Challenge
The heterogeneous and vast IT landscape had to be migrated to Azure with no impact to end users accessing the shared services round the clock. Stringent security and regulatory compliance requirements added to the complexity of the project. There were over 300 VMs, multiple server platforms, diverse databases and complex networks, to be migrated on Azure. Massive customization was required to replicate the existing landscape functionalities on cloud. The third-party systems and applications needed seamless integration, calling for nuanced expertise.
The Solution
Cloud4C migrated the complex IT landscape, hosting both production and DR sites on Azure. We adopted a mixed approach, combining both native and Azure technologies. A thorough feasibility assessment was performed by our experts to understand the requirements and align the solution architecture to stringent government norms. The successful Azure Migration set a new standard by delivering a highly optimized landscape.
As part of the solution, Cloud4C supported the client in the following:
Datacenter Migration and Modernization
Geo-redundant On-demand Disaster Recovery
Designing Failsafe Security Architecture backed by Azure Sentinel, Azure Security Center (ASC)
Zero Downtime with 24/7/365 Monitoring
Validating Each Process With Stringent Quality Checks
Application Modernization - Serverless Computing and Continuous Integration Continuous Deployment (CI/CD), Microservices architecture etc.
Database modernization – MS SQL, Oracle MySQL and other databases maintained on-premise servers modernized and managed as PaaS with MS Azure
Reliable Enterprise Backup solution
Automation and Modernization for Optimal productivity
VDI Implementation
Business Impact delivered
Move to opex model with no capital investments, bringing down TCO by 40%
Fully secure, safe and resilient IT environment
Faster GTM for end user applications
Zero disruption complex Azure migration under single SLA
99.9% application level uptime with round the clock SME level monitoring
Setting benchmark with a new solution architecture for MS Azure migration
AI based threat modelling for pre-emptive action, protecting IT landscape
Data Migration Services From Cloud4C
Leading enterprises are doubling their data footprints many a time each year. As such, they are looking to simultaneously reduce costs, take advantages of newer forms of big data, and enjoy greater flexibility in analyzing data, with powerful AI and analytical algorithms. And all of these is possible by modernizing data, i.e. moving data from legacy databases to modern cloud-based databases.
DATA MIGRATION
SHOWCASING THE
COMPLETE SCOPE
A discovery workshop to gather stakeholder opinions, assess data warehouse readiness, collect server and application information. Subsequently, scenario and workloads identification for migration and customized planning for a successful migration without any disruption to operations.
CLOUD4C MIGRATION FACTORY
A proven, cost-effective, industrialized, and fully packaged service for organizations to realize greater certainty in migration. It's a highly automated "migration factory" approach with a low-cost workforce and tried and tested tools, eliminating delays and delivering quality results, on time, every time.
Streamlined homogeneous migrations such as from Oracle to Oracle, as well as heterogeneous migrations between different database platforms, such as Oracle to Amazon Aurora.
DATA SECURITY DURING MIGRATION
A highly-secured data migration with complete backup before the process, encrypted data transfer and controlled access during the entire process - all the while maintaining integrity of your data.
COMPLEX & LARGE SCALE MIGRATIONS
Automated administrative solutions facilitate database auditing to capacity management to platform-supported disruption management, upgrading, and patching - easing complex and voluminous migrations without data loss and downtime.
Centralized Azure Security Monitoring
Cloud4C with the help of Cloud4C proprietary frameworks with 40+ security control objectives and 26 security tools, automatically collects and alerts on security data from critical Azure services such as Azure Monitor, Azure Application Insights, Azure Sentinel, centralizing and simplifying Azure security monitoring. The service includes Security management, including Active Directory, firewall, endpoint protection, virtual network and antivirus which eliminates blind spots and ensures continuous threat coverage.
We offer Security first design coupled with 24/7 security monitoring instrumentation and assisted by periodical audits is the security strategy we follow. We can help ensure fault tolerant security setup which helps Prevent, Detect, Protect and Evolve.
CAF Based Security and Industry Standard Compliance Assessment
Azure Native Tool Mapping
Recommended Security Tools confguration
Azure Security and Governance Policy using Azure Policy and Blueprints
Azure Landing zone recommendation
Azure Sentinel Demo
CAF Based Azure Governance Assessment
Azure Platform Break fix
Azure Governance MVP (Minimal Viable product) to act as a Governance foundation for current and future workloads
Azure Policies & Blueprint recommendation (Standard and Custom)