The Global Cloud Computing market size is expected to grow to USD 623.3 billion by 2023 at a Compound Annual Growth Rate (CAGR) of 18.0%.
AWS Migration and Transformation services from Cloud4C
We help enterprises transform their data center to AWS to simplify their infrastructure and to improve availability, scalability and compliance.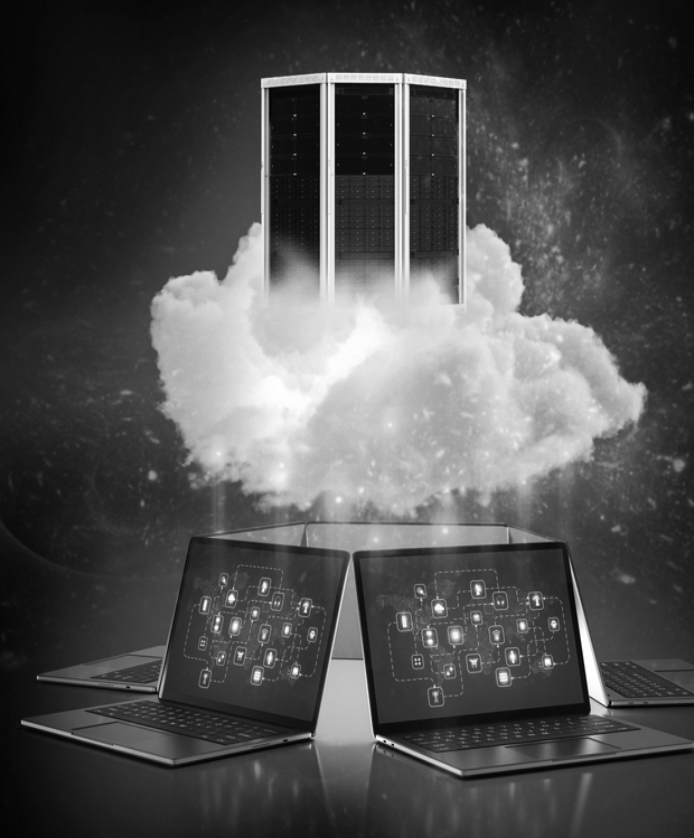 Migration Advisory and Best practices
Our Cloud Architects and Security Consultants will work with an enterprise team to design highly available, scalable, secure and cost optimized design for their workloads (infra, application, data and workplace). Our CloudOps offering helps enterprises design the right cloud strategy, based on AWS Cloud Adoption Framework along with complete expertise in designing and implementing the cloud infra with scalability, sustainability, security, reproducibility and ROI sensitivity as primary focus. Cloud4C is adept in Cloud Migrations and Hybrid Cloud Operations.
Cloud Infra Setup and Management – Secure and Automated infra setup is our strength. On click infra set up and tear down, automated on demand new environment creation are facilitated by tools such as Terraform and AWS CloudFormation.
As part of the IT Modernization exercise, we offers the following services with a team of more than 2000 certified cloud experts at Cloud4C and with the help of AWS team across the world.
Workload Migration to AWS Services
Cross region migration for compliance or higher throughput, bare metal to Cloud or Cloud to Bare Metal - we have done it all. We can help devise the best migration strategy and implement it with zero down time and minimum effort.
CAF Based Workload Assessment & Migration Blueprint (Includes Landing Zone Readiness if only a certain percentage of workload is migrated to cloud)
Aligned to AWS best practices, Cloud Adoption Frameworks (CAF) from Cloud4C help to prepare a customised and detailed infrastructure, application and data migration assessment report. Cloud4C Migration factory helps enterprises with complex and mission critical workloads select and execute the right migration strategy. This includes re-host, refactor, re-architect and re-build options using AWS services. Cloud4C, today, manages more than 40,000 VMs on public cloud infrastructure, leveraging robust CAFs, Cloud4C proprietary accelerators and tools. Cloud4C Migration factories use the highly efficient assembly line approach with clearly defined steps to make the migration and transformation safe, secure and needless to say fail-proof. Some of the key steps we take care during this phase.
Assessment Report
Migration Strategy, Approach & Timelines
Security Tools Mapping
Gap Mitigation Plan
AWS Estimates
Migration Estimates
AWS Landing Zone Readiness & Migration of Workload (Lift and Shift)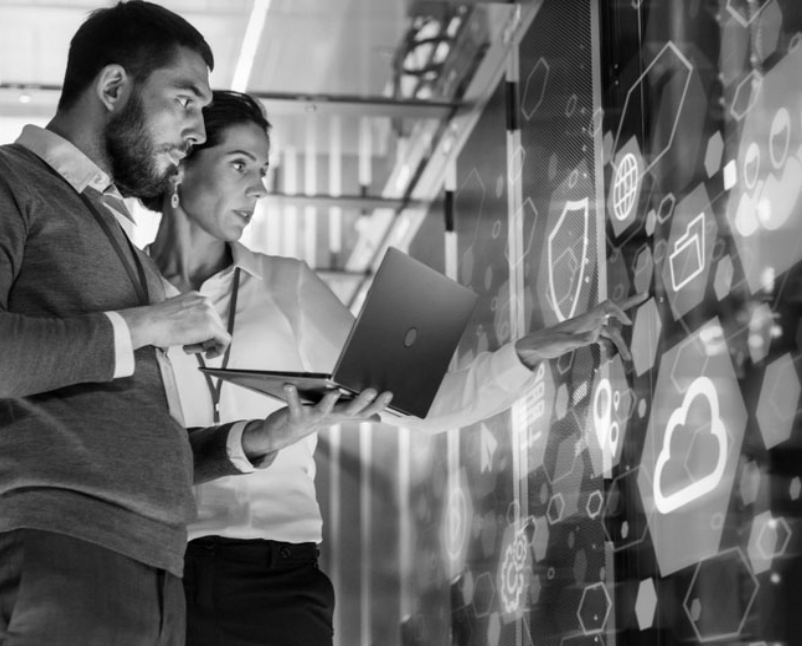 Cloud4C Assessment Services – Engagement and Deliverables
Infrastructure as-Is analysis report
Datacenter modernization and consolidation plan with TCO Comparison
Building Blocks and Estimates
Migration Approach and Plan
Security and Compliance gap analysis and re-mapping for to be state
Business continuity and Business Process gap analysis and mitigation plan (IT Infra related only)
Proof of concepts on AWS (PoC)
Infrastructure and security services - Deployment Plan
Zero Friction Managed Service SOW and SOP document (including commercials)
Project Management and Governance
IT Staff Training
CAF Based SAP Workload Assessment & Migration Blueprint
Many large enterprises and even SMBs rely on SAP applications to drive the core functions of their business, and they support these applications on costly, dedicated resources that are not even agile. This makes it hard for them to take advantage of cool features in newer SAP solutions, such as S/4HANA. Migrating to the cloud delivers efficiency and flexibility with no downtime. Here are the list of deliverables Cloud4C helps with in their journey of migrating their SAP workloads to AWS.
SAP Landscape Assessment Report
SAP to be landscape on AWS blueprint
SAP landscape migration strategy, approach and timelines
Gap Mitigation Plan
Security Tool Mapping
AWS Estimates
SAP Landscape Migration Estimates
AWS Landing Zone Readiness Plan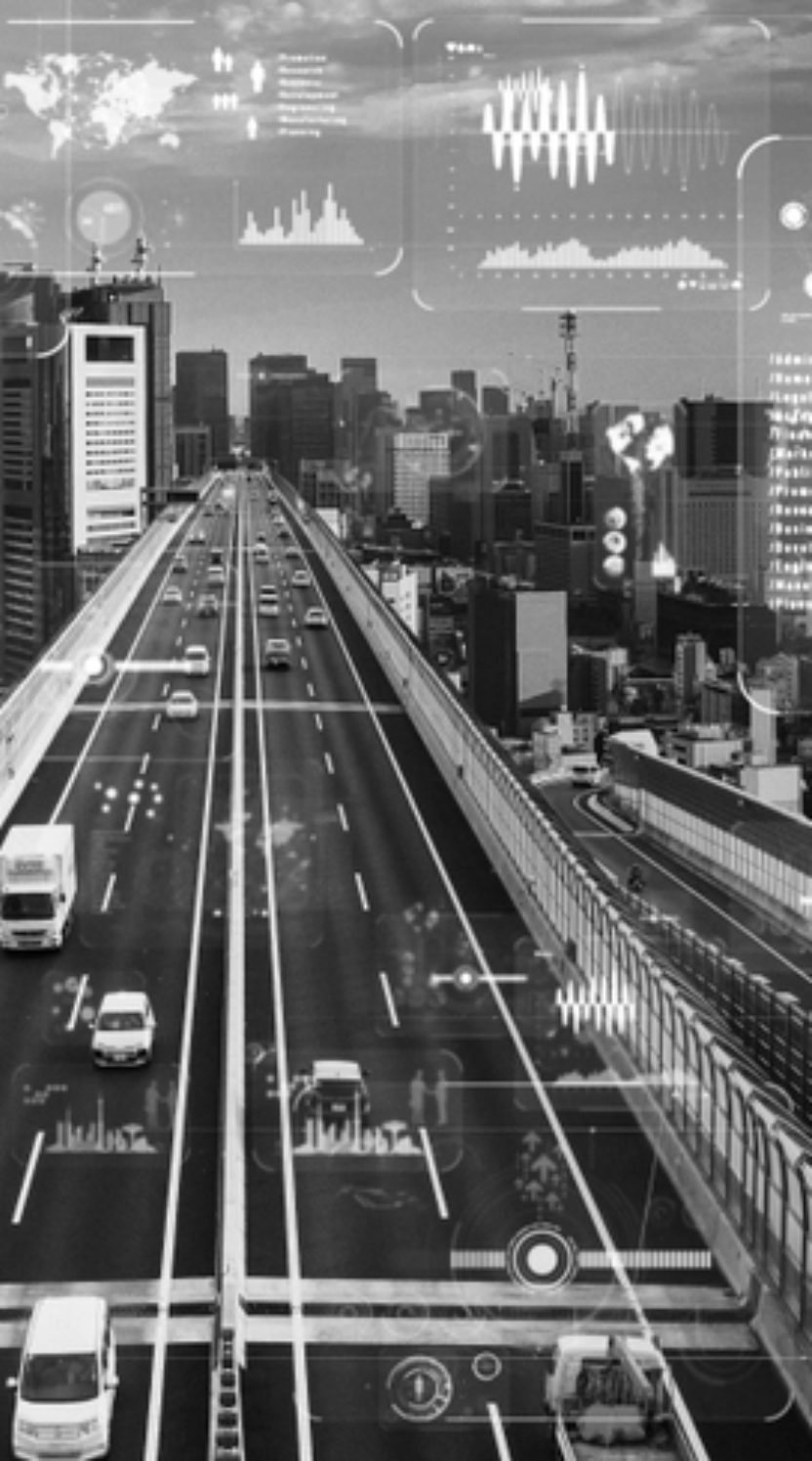 Workload Transformation Services (AI, ML, Cognitive, IoT)
Enterprises have been dependent on traditional data warehouses to ingest, model, and store data for ages. In a typical IT environment, conventional data warehouses would extract, transform, and load (ETL) jobs to process data in batches. However, handling millions of queries per month comes at a considerable cost. Blending exabytes of data from various historical and streaming sources such as internal data across spreadsheets, third-party data, and big data stores also makes business analysis difficult and time-consuming.
As businesses explore options to shift from traditional data warehouses to meet their demands and scale business operations, cloud platforms have gained popularity. Whether it is public, private, or hybrid, enterprises are continuing to move their workloads and applications to the cloud infrastructure. Gartner predicts that more than 50 percent of organizations using the cloud today will have all their workloads in the cloud by 2021.
Enterprises will no longer lift-and-shift into the cloud but will instead refactor and rebuild directly in the cloud. While enterprises might retain some mission-critical workloads on-premise, most enterprise data will be in the cloud.
At Cloud4C, automated administrative solutions facilitate database auditing to capacity management to platform-supported disruption management, upgrading, and patching - easing complex and voluminous migrations without data loss and downtime.
Cloud4C: A Trusted Partner in the Application Transformation and Migration Journey
Cloud4C Application Modernization helps enterprises in maintaining, extending, deploying and managing their applications so that they meet the current and future business needs. This depends on their situation which will be driven by factors such as strategic business initiatives, application architecture, time, cost and available skills. Various approaches and techniques for Application Modernization that Cloud4C supports are as follows:
REHOST
"Rehost," also known as "Lift & Shift," is a common approach to migrating applications to the Cloud. We simply would move the application to AWS with minimal adjustments to the infrastructure as a whole.
This Infrastructure as a Service (IaaS) enables enterprises to immediately reduce operational costs, free up space in their data center, and considerably accelerate any follow-up to their migration process.
REFACTOR
"Refactor" is about customizing an application, so that it is better aligned with the Cloud environment. This often includes modifying the application itself and part of the code to make more use of Cloud-native functions and the flexibility that they offer. Essentially, we would be switching to a PaaS model. With Refactoring, developers can re-use languages, containers, and the framework in which they've invested.
REARCHITECT
Some obsolete applications aren't compatible with the Cloud due to architectural decisions made while building the app. In this case, it would be wise to consider "Rearchitecting." This allows us to divide the application into several functional components that can be individually adapted and further developed. The individual components, or "microservices," can be individually transferred to the Cloud.
REBUILD
A "Rebuild" migration strategy means that we completely redevelop the application on a PaaS infrastructure – unlike with Rearchitect, where we only modify parts of the application. It involves removing existing code and redesigning the application in the Cloud, after which we can utilize innovative features on the Cloud provider's platform. A Cloud-native application is cheap to use and highly scalable.
REPLACE
A "Replace" migration strategy completely replaces an existing application with SaaS. When an existing SaaS application can provide all the necessary functionalities, Replace is an excellent option to save costs related to IT development.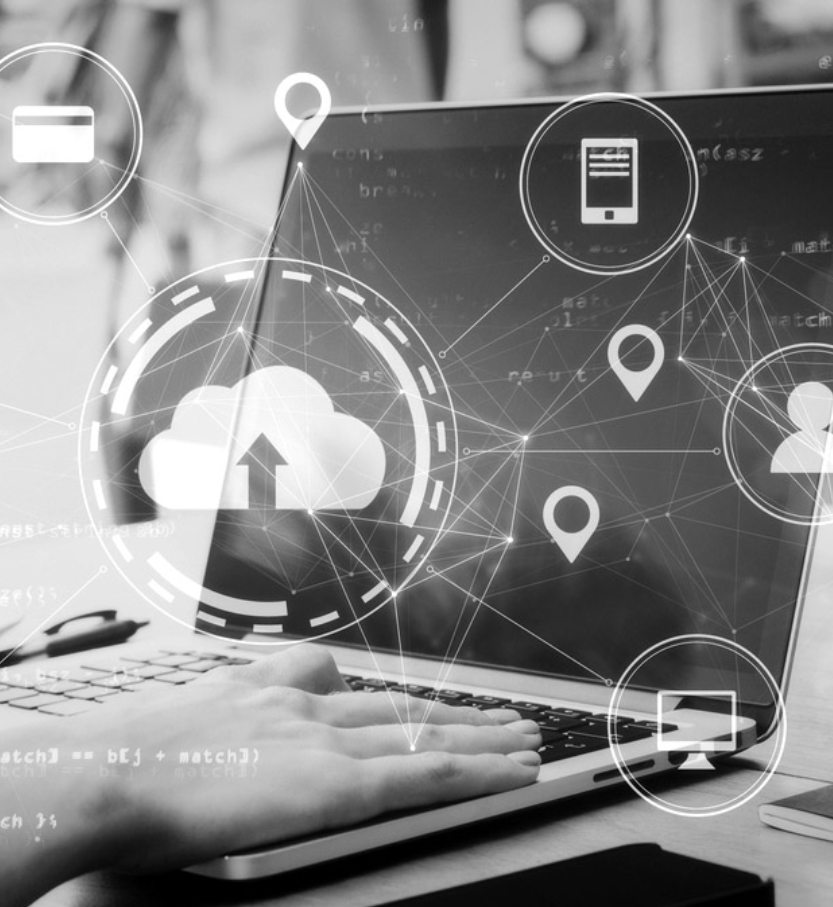 Cloud4C Application Modernization
Robust I Compliant I Fail-safe I Adhering to Business Objectives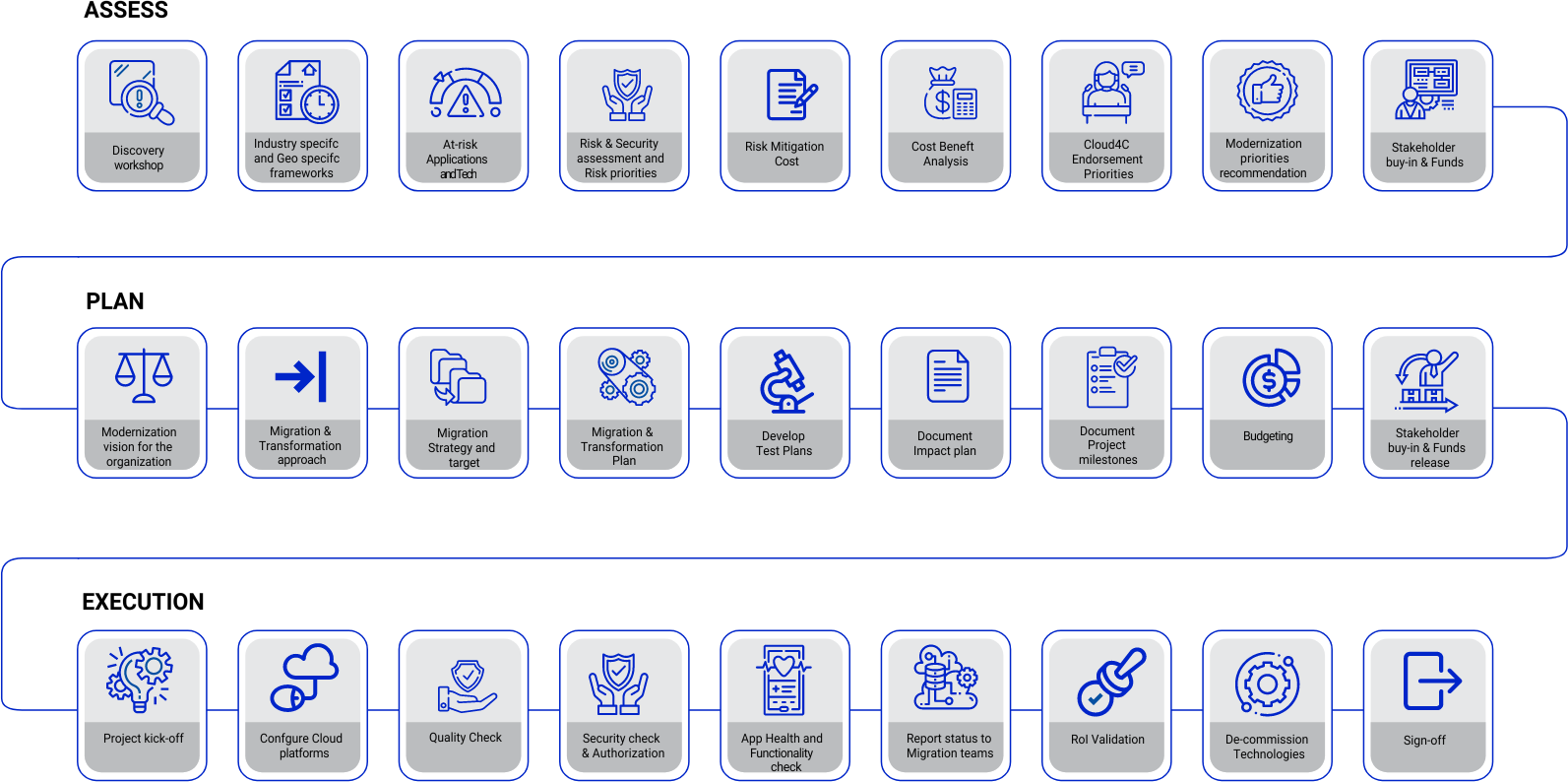 Data Modernization Experience of Cloud4C
Leading enterprises are doubling their data footprints many a time each year. As such, they are looking to simultaneously reduce costs, take advantages of newer forms of big data, and enjoy greater fexibility in analyzing data, with powerful AI and analytical algorithms. And all of these is possible by modernizing data, i.e. moving data from legacy databases to modern cloud-based databases. As a cloud-services partner of thousands of enterprises worldwide, Cloud4C brings in certifed cloud experts and data scientists to deliver the right advice on data migration to cloud platforms and modernize it.
1000 + Customers DB Managed
10 out of 25 Top Global banks' Databases managed
3000+ Database Instances handled
80 TB Managed database of a Single customer
Our end-to-end Data Modernization services include:
100+ Multi-Cloud DB certifed professionals
Near-Zero architecture on Multi-Cloud
10,000 TB Managed databases
200+ Compliance and Regulatory Audits Annually
200+ Annual DR Drills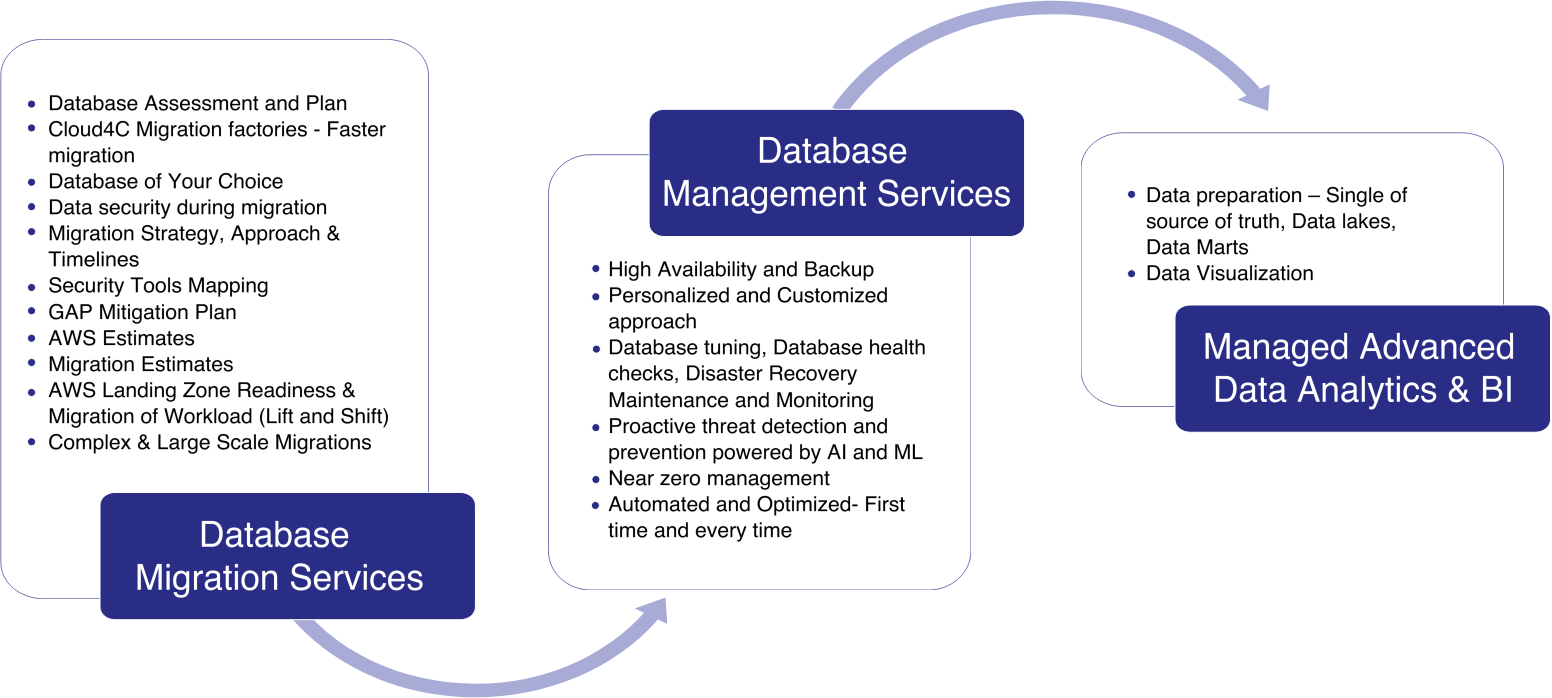 Workload Transformation to Microservices
Microservices architecture is a must for Applications at Scale. Management of Microservices is a nightmare - unless it is managed via automated solutions and state of the art instrumentations. Our deep experience in managing large scale Microservices Architecture based B2B and B2C solutions can be leveraged to seamlessly manage an enterprise's Microservices platform and products.
Cloud4C delivers scalable and cost optimized Infra as well as DevOps processes for Micro Services based applications via next generation Containerization and Management. We eliminate the risk and uncertainty associated with Microservices management.
Define Microservice DevOps Strategy
Managed Container Orchestration
Scalable and Cost Optimized Infra
Hybrid Cloud/Cloud Agnostic Setup
Microservices Approach Consulting
Scale is driving the internet-based ecosystem to Microservices, this paradigm shift requires completely different DevOps Strategy and Implementation.

Our experts can help an enterprise arrive at the right Application Architecture Strategy, coupled with right DevOps tooling and support to ensure that the Microservice Management can be simplified.

Microservice based architecture – Deploy istio based applications using EKS, Kubernetes Clusters

Calico – Pod Security, Network Security – istio control pane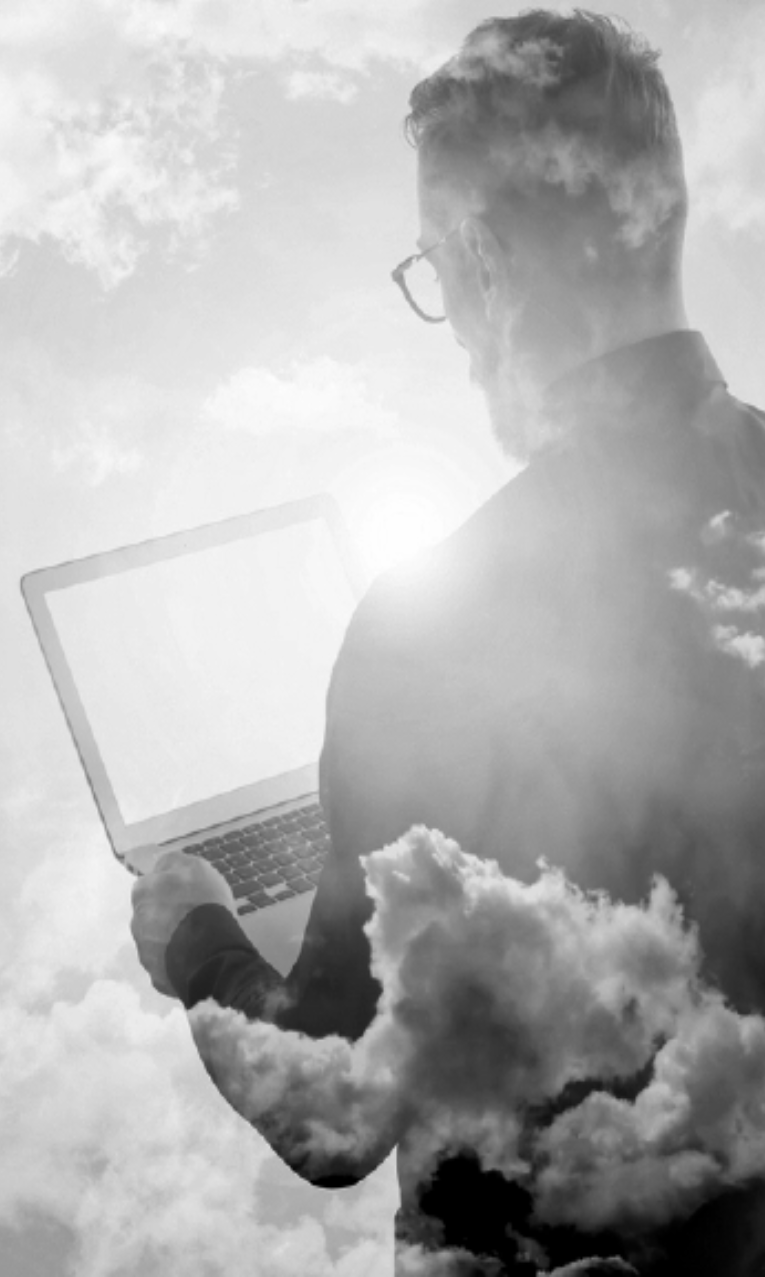 Intelligent Managed Services for AWS
Once enterprises opt to run workloads on AWS, they have to address various challenges in managing them. Managing infrastructure in the cloud needs signifcant attention demanding business's time, energy and resources. Cloud4C can help and take this load off an organization's shoulders. As an AWS Advanced Consulting partner, Cloud4C enables businesses to realize the benefts of AWS cloud hosting through a complete range of managed services.
Our Enterprise Grade Managed services from our AWS Center of Excellence help enterprises meet heterogeneous and complex technology environments through an robust service delivery model built on ITIL, ITSM, COBIT process frameworks coupled with our best practices we gathered handling over thousands of IT Modernization projects.
We determine workload needs, transform and migrate applications without disruption, furnish a secure, stable infrastructure. Our team of AWS certifed cloud experts can manage all the AWS related databases and infrastructure along with application deployment on AWS. Our team possesses in-depth knowledge and expertise in AWS eco-system. We can help enterprises and web application deployments to make the best AWS services and tools such as EC2, CloudFormation, CloudWatch, EKS, IAM and more.
Single SLA - AWS Cloud to Application Layer
Cloud4C offers enterprises a single SLA at Application login with end-end responsibility of IT management including security (a robust security framework with 40+ information controls complying with global regulations and standards such as GDPR, IRAP, FedRAMP, OJK, MAS, RBI, etc.)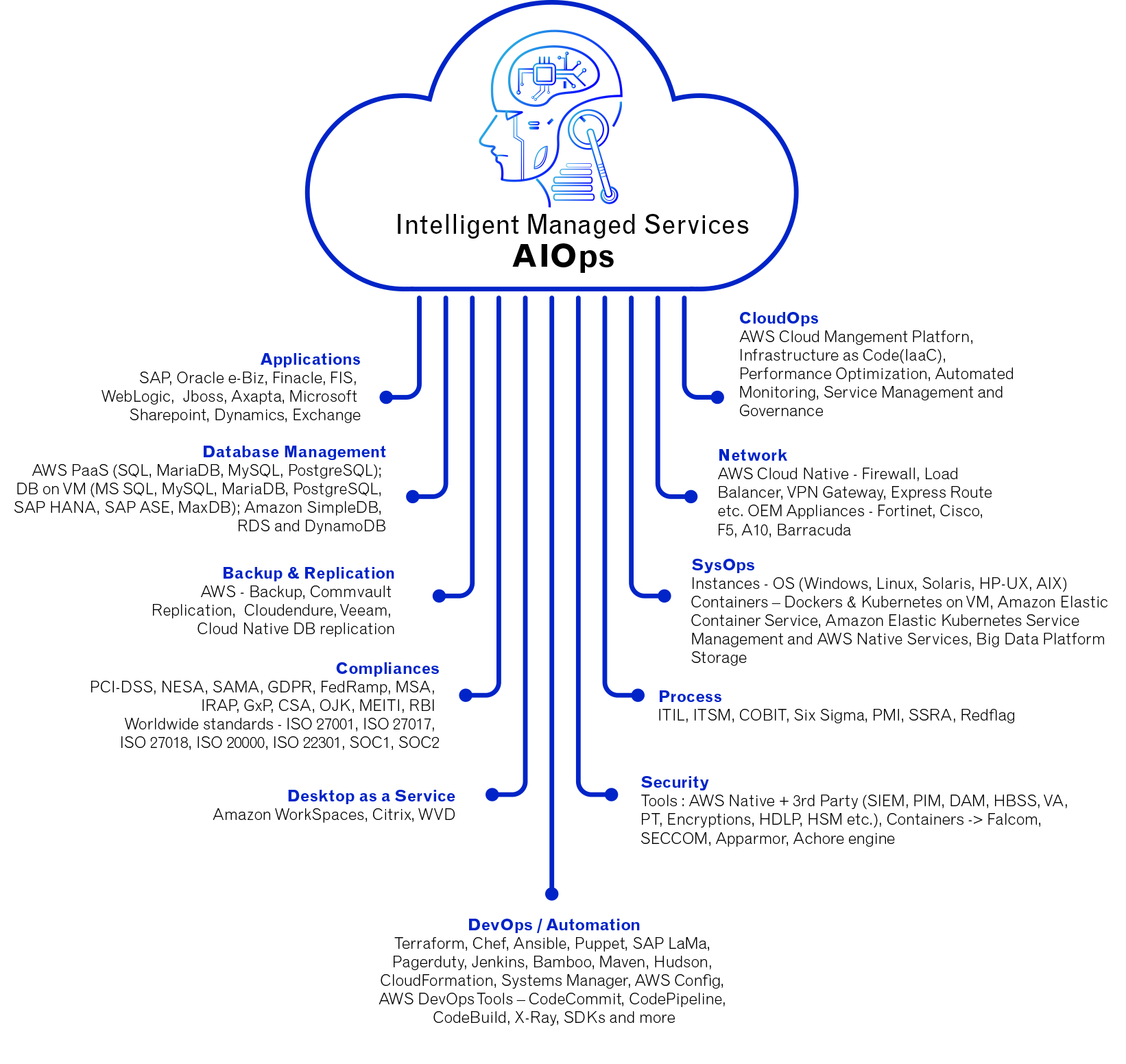 Workload Monitoring and Automation
The strategic use of automation enables us to protect our customers from harm. The automation of managed services directly affects the Top-line and Bottom-line. No downtimes, always secure data and infra translates to cost savings. Automating any repeatable and routine tasks allows enterprises to save on resources. At Cloud4C, we have automated some of the key functions of managed services.
Remote Monitoring and Management (RMM)
This enables the tracking of important IT functions like diagnostic alerts and performance reviews so that the team is aware of the issues with the infra. It reduces risk of failure or on-site visits for correcting the issues.
Professional Service Automation (PSA)
Administrative tasks, billing and customer account management is automated so that you can focus more on your business instead of such routine tasks.
Auto Application Start
The Automation helped us reduce the Application Start within 2 Minutes of the VM being up post a VM Reboot; The total VM outage has been reduced from 30 minutes to less than 3 minutes in total per SID (in case of SAP deployments).
Auto resolution
The ticket auto generates when the conditions mentioned in the logic are met and performs the deletion action. The ticket is recorded with prior space and freed space with the list of the files which are deleted.
Health checks, Log Compilation and Alerting
Health checks, Log Compilation and Alerting of Databases and Applications are automated. This helps in proactively identifying the Error/Alerts symptoms by constantly monitoring them. This helps identifying the Error patterns ahead and help reduce the outages proactively.
Replication status checks
Automating this function helps in maintaining the DB Replication and alerts if the replication fails.
Virtual Patching
Automated Patch deployment at Cloud4C enables enterprises to focus on their priorities while being assured of the mitigation of threats arising due to vulnerabilities. It also accelerates the Vulnerability remediation for enterprises across hybrid environments.
Secure and Cost Optimized CloudOps
We can help harness the real power of cloud with complete automation and security first approach - Cloud Migration, Automated Infra Setup, Automated Build and Deploy Topology and Instrumentation for Observability
Automated Backup and Recovery
Cloud4C enables customers to manage and monitor the application recovery with automated switchovers and DR drills. Organizations can monitor MPO, data lag and recovery time while automating end-to-end application recovery in case of DR in a single click.
Managed Service with AIOps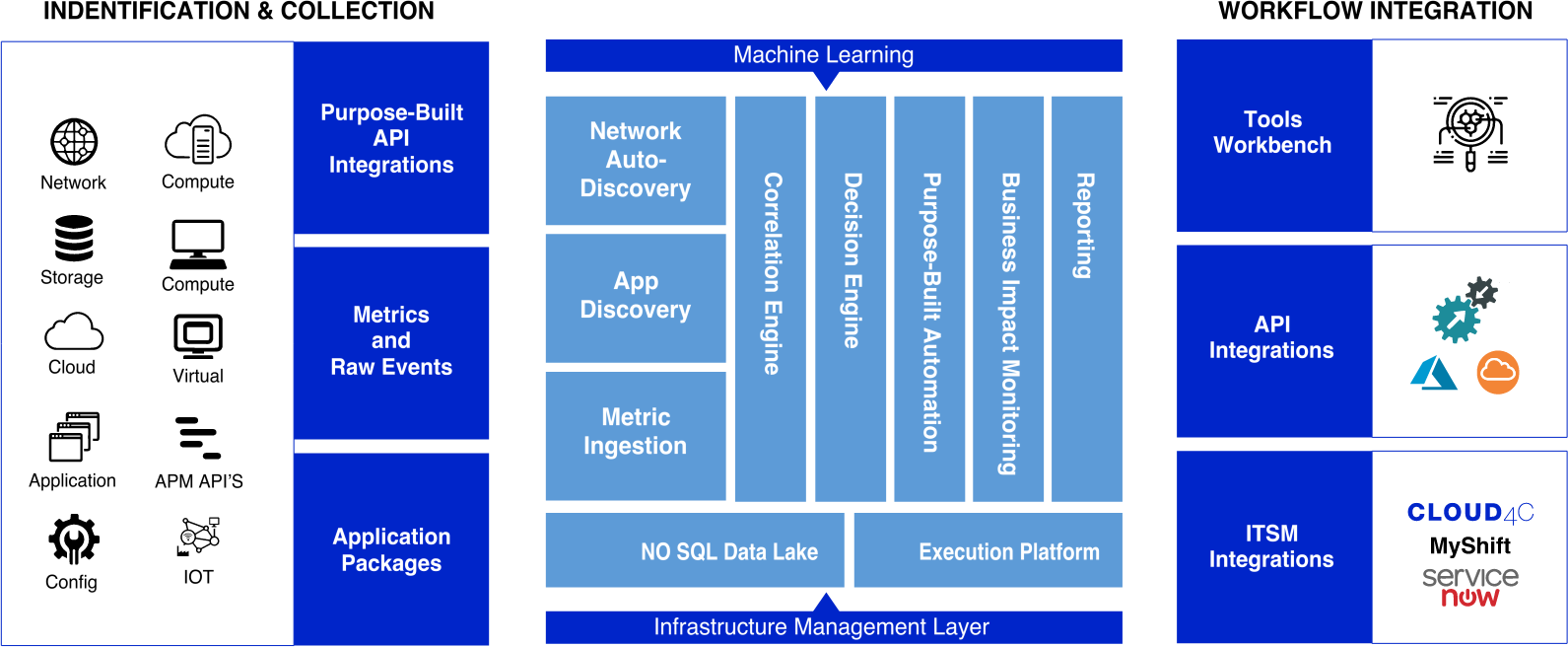 Cloud Security and Audits
Centralized AWS Security Monitoring
Cloud4C with the help of Cloud4C proprietary frameworks with 40+ security control objectives and 26 security tools, automatically collects and alerts on security data from critical AWS services such as CloudTrail, CloudWatch, and S3 and ELB access logs, centralizing and simplifying AWS security monitoring. The service includes Security management, including Active Directory, firewall, endpoint protection, virtual network and antivirus which eliminates blind spots and ensures continuous threat coverage.
We offer Security first design coupled with 24/7 security monitoring instrumentation and assisted by periodical audits is the security strategy we follow. We can help ensure fault tolerant security setup which helps Prevent, Detect, Protect and Evolve.
CAF Based Security and Industry Standard Compliance Assessment
AWS Native Tool Mapping
Recommended Security Tools configuration
AWS Security and Governance Policy using AWS Confg and Blueprints
AWS Landing zone recommendation
Azure Sentinel Demo
More information on our Managed Detection and Response capabilities can be found here
CAF Based AWS Governance Assessment
AWS Platform Break fix
AWS Governance MVP (Minimal Viable product) to act as a Governance foundation for current and future workloads
AWS Policies & Blueprint recommendation (Standard and Custom)